Dispositivo EROS en el manejo de la anorgasmia femenina: Estudio prospectivo de serie de casos en mujeres del Quindío
Palabras clave:
Efectividad, mujeres, orgasmo, seguridad, terapia
Resumen
Introducción: La anorgasmia es el retraso persistente, o recurrente, o ausencia de orgasmo después de una fase de excitación sexual normal, resultando en dificultades personales o interpersonales. El tratamiento se aborda desde diferentes perspectivas. Objetivo: Presentar los resultados de la efectividad y seguridad del uso del dispositivo EROS-CTD en el manejo de la anorgasmia femenina, en un grupo de mujeres del Quindío. Materiales y métodos: estudio de reporte de casos, de tipo observacional, descriptivo, prospectivo, de mujeres intervenidas por trastorno del orgasmo, en Armenia, Quindío, Colombia, en el periodo de 2012 a 2017. Resultados: Se intervino 39 mujeres; edad media de 35,1 (DS ± 3,7) años. La anorgasmia primaria fue del 61,53% y la secundaria del 38,36%. El promedio de seguimiento del uso del dispositivo EROS-CTD, fue de 23,7 (DS ± 4,5) meses por paciente. Al finalizar el estudio, la satisfacción global con el uso del dispositivo es del 89,74%, ninguna de las mujeres presentó complicaciones relacionadas con el uso del aparato. Conclusiones: La efectividad del tratamiento de la anorgasmia femenina con el dispositivo EROS-CTD, ha beneficiado favorablemente a las mujeres del estudio.
Descargas
La descarga de datos todavía no está disponible.
Referencias
Laumann EO, Paik A, Rosen RC. Sexual dysfunction in the United States: prevalence and predictors, JAMA. 1999; 281(6):537-44.
Espitia-De la Hoz FJ. Sexo Ilimitado/El vuelo hacia una sexualidad más placentera. Primera Edición. Bogotá. Editorial Bolívar. 2015. p.59-65.
Kleinplatz PJ. History of the Treatment of Female Sexual Dysfunction(s). Annu Rev Clin Psychol. 2018; 7(14):29-54. doi: 10.1146/annurev-clinpsy-050817-084802
Sathyanarayana Rao T S, Tandon A, Manohar S, Mathur S. Clinical Practice Guidelines for management of sexual disorders in elderly. Indian J Psychiatry 2018; 60, Suppl S3:397-409. doi: 10.4103/0019-5545.224478
Espitia-De la Hoz FJ. Mi primer año en La Crónica. Primera Edición. Bogotá. Editorial Bolívar. 2016. p.111-112.
Rellini AH, Clifton J. Female Orgasmic Disorder. Advances in Psychosomatic Medicine. 2011; 31:35–56. doi:10.1159/000328807
Espitia-De la Hoz FJ. Evaluación de la prevalencia de disfunción sexual en mujeres médicos, del Eje Cafetero colombiano, en etapa de climaterio. Arch Med (Manizales) 2017; 17(1):70-7.
Espitia-De La Hoz FJ. Prevalence and characterisation of sexual dysfunctions in women, in 12 Colombian cities, 2009-2016. Rev Colomb Obstet Ginecol 2018; 69:9-21. doi: 10.18597/rcog.3035
Najafabady MT, Salmani Z, Abedi P. Prevalence and related factors for anorgasmia among reproductive aged women in Hesarak, Iran. Clinics (Sao Paulo). 2011; 66(1):83-86. doi: 10.1590/S1807-59322011000100015
Christensen BS, Grønbaek M, Osler M, Pedersen BV, Graugaard C, Frisch M. Sexual dysfunctions and difficulties in denmark: prevalence and associated sociodemographic factors. Arch Sex Behav. 2011; 40(1):121-32. doi: 10.1007/s10508-010-9599-y
Weinberger JM, Houman J, Caron AT, Anger J. Female Sexual Dysfunction: A Systematic Review of Outcomes Across Various Treatment Modalities. Sex Med Rev. 2018. pii: S2050-0521(18)30001-5. doi: 10.1016/j.sxmr.2017.12.004
Johnson SD, Phelps DL, Cottler LB. The association of sexual dysfunction and substance use among a community epidemiological sample. Arch Sex Behav. 2004; 33(1):55-63. doi: 10.1023/B:ASEB.0000007462.97961.5a
McCabe MP, Sharlip ID, Lewis R, Atalla E, Balon R, Fisher AD, et al. Incidence and Prevalence of Sexual Dysfunction in Women and Men: A Consensus Statement from the Fourth International Consultation on Sexual Medicine 2015. J Sex Med. 2016; 13(2):144-52. doi: 10.1016/j.jsxm.2015.12.034
Omani-Samani R, Amini P, Navid B, Sepidarkish M, Maroufizadeh S, Almasi-Hashiani A. Prevalence of Sexual Dysfunction among Infertile Women in Iran: A Systematic Review and Meta-analysis. Int J Fertil Steril. 2019; 12(4):278-283. doi: 10.22074/ijfs.2019.5395
Jannini EA, Buisson O, Rubio-Casillas A. Beyond the G-spot: clitourethrovaginal complex anatomy in female orgasm. Nat Rev Urol. 2014; 11(9):531-8. doi: 10.1038/nrurol.2014.193
Puppo V. Anatomy and physiology of the clitoris, vestibular bulbs, and labia minora with a review of the female orgasm and the prevention of female sexual dysfunction. Clin Anat 2013; 26(1):134-152. doi:10.1002/ca.22177
Li T, Liao Q, Zhang H, Gao X, Li X, Zhang M. Anatomic Distribution of Nerves and Microvascular Density in the Human Anterior Vaginal Wall: Prospective Study. PLoS One. 2014; 9(11): e110239. doi:10.1371/journal.pone.0110239
Yang C, Hakky TS, Carrion R. Evaluation and Treatment of Orgasmic Dysfunction. In: Lipshultz L, Pastuszak A, Goldstein A, Giraldi A, Perelman M. (eds) Management of Sexual Dysfunction in Men and Women. Springer, New York, NY. ISBN: 978-1-4939-3099-907/978-1-4939-3100-2_15. 2016; 159-170. doi: 10.1007/978-1-4939-3100-2_15
Berman JR, Berman L, Werbin T, Goldstein I. Female sexual dysfunction: anatomy, physiology, evaluation and treatment options. Curr Opin Urol. 1999; 9(6):563-8.
Krakowsky Y, Grober ED. A practical guide to female sexual dysfunction: An evidence-based review for physicians in Canada. Can Urol Assoc J. 2018; 12(6): 211-16. doi:10.5489/cuaj.4907
Laan E, Rellini AH. Can we treat anorgasmia in women? The challenge to experiencing pleasure. Sexual and Relationship Therapy. 2011; 26(4):329-41. doi:10.1080/14681994.2011.649691
Cabello-Santamaría F. Disfunciones sexuales femeninas. En Cabello F, Lucas M, editores. Manual Médico de Terapia Sexual. Primera Edición. Madrid: Psimática; 2002. p.281-293.
IsHak WW, Bokarius A, Jeffrey JK, Davis MC Bakhta Y. Disorders of Orgasm in Women: A Literature Review of Etiology and Current Treatments. The Journal of Sexual Medicine. 2010; 7(10):3254-68. doi:10.1111/j.1743-6109.2010.01928.x
Billups KL, Berman L, Berman J, Metz ME, Glennon ME, Goldstein I. A new non-pharmacological vacuum therapy for female sexual dysfunction. J Sex Marital Ther. 2001; 27(5):435-41.
Schroder M, Bieber EJ, Mell LK, Mundt AJ. Eros therapy: Treatment of sexual dysfunction in postmenopausal women not on hormone replacement. Obstet Gynecol. 2003; 101(4):95S.
Wilson SK, Delk JR 2nd, Billups KL. Treating symptoms of female sexual arousal disorder with the Eros-Clitoral Therapy Device. J Gend Specif Med. 2001; 4(2):54-8.
Billups K, Bakdash D, Savage M, Flaherty E, Goldstein I. Vacuum-induced clitoral engorgement for treatment of female sexual dysfunction in diabetic women. J Urol 2002; 167(4):281 (abst 1105).
Billups KL. The role of mechanical devices in treating female sexual dysfunction and enhancing the female sexual response. World J Urol. 2002; 20(2):137-41. doi: 10.1007/s00345-002-0269-0
Isidori AM, Pozza C, Esposito K, Giugliano D, Morano S, Vignozzi L, et al. Development and validation of a 6-item version of the female sexual function index (FSFI) as a diagnostic tool for female sexual dysfunction. J Sex Med. 2010; 7(3):1139-46. doi: 10.1111/j.1743-6109.2009.01635.x
Chedraui P, Pérez-López FR, Sánchez H, Aguirre W, Martínez N, Miranda O. Assessment of sexual function of mid-aged Ecuadorian women with the 6-item Female Sexual Function Index. Maturitas. 2012; 71(4):407-12. doi: 10.1016/j.maturitas.2012.01.013
Carpenter JS, Jones SM, Studts CR, Heiman JR, Reed SD, Newton KM. Female Sexual Function Index Short Version: A MsFLASH Item Response Analysis. Arch Sex Behav. 2016; 45(8):1897-1905. doi: 10.1007/s10508-016-0804-5
Espitia-De La Hoz, FJ. Prevalencia de disfunción sexual en mujeres del Eje Cafetero. Rev.cienc.biomed 2016; 7(1):25-33.
Rivera GP, González IR, Vargas Peña ML. Disfunciones sexuales en la mujer mapuche. Rev Chil Urol. 2004; 69:68-72.
Guarín-Serrano R, Cadena-Afanador L, Mujica-Rodríguez AM, Ochoa-Vera ME, Useche-Aldana B. Prevalencia de orgasmo en mujeres universitarias de Bucaramanga (Colombia), 2013. Rev Colomb Obstet Ginecol. 2014; 65(4):330-37. doi: 10.18597/rcog.37
Bronselaer G, Callens N, De Sutter P, De Cuypere G, T'Sjoen G, Cools, et al. Self‐Assessment of Genital Anatomy and Sexual Function within a Belgian, Dutch‐Speaking Female Population: A Validation Study. The Journal of Sexual Medicine. 2013; 10(12), 3006-18. doi:10.1111/jsm.12326
Muehlenhard CL, Shippee SK. Men's and women's reports of pretending orgasm. J Sex Res. 2010; 47(6):552-67. doi: 10.1080/00224490903171794
Hurlbert DF, Apt C. The coital alignment technique and directed masturbation: a comparative study on female orgasm. J Sex Marital Ther. 1995 Spring; 21(1):21-9. doi: 10.1080/00926239508405968
Hisasue S, Kumamoto Y, Sato Y, Masumori N, Horita H, Kato R, et al. Prevalence of female sexual dysfunction symptoms and its relationship to quality of life: a Japanese female cohort study. Urology. 2005; 65(1):143-8. doi: 10.1016/j.urology.2004.08.003
Schroder M, Mell LK, Hurteau J.A, Collins YC, Rotmensch J, Waggoner S E. Clitoral therapy device for treatment of sexual dysfunction in irradiated cervical cancer patients. International Journal of Radiation Oncology Biology Physics. 2005; 61(4):1078–86. doi:10.1016/j.ijrobp.2004.07.728
Munarriz R, Maitland S, Garcia SP, Talakoub L, Goldstein I. A prospective duplex Doppler ultrasonographic study in women with sexual arousal disorder to objectively assess genital engorgement induced by EROS therapy. J Sex Marital Ther. 2003; 29 Suppl 1:85-94. doi: 10.1080/713847133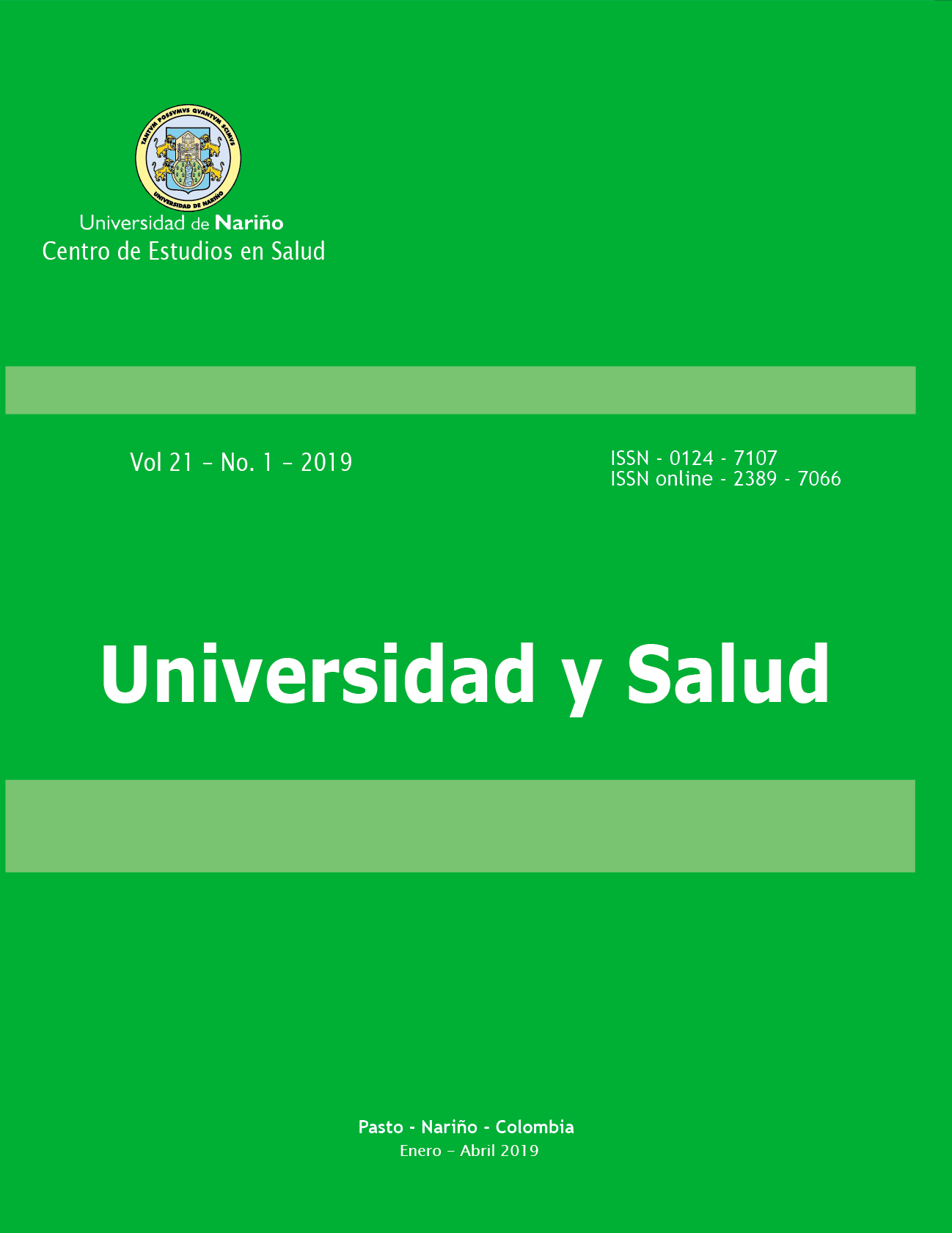 Cómo citar
Espitia De La Hoz, F. (2018). Dispositivo EROS en el manejo de la anorgasmia femenina: Estudio prospectivo de serie de casos en mujeres del Quindío. Universidad Y Salud, 21(1), 38-47. https://doi.org/10.22267/rus.192101.138
Sección
Artículo de investigación científica y tecnológica