Effect with organic acid supplementation on productive and reproductive parameters in guinea pigs
Keywords:
citric acid, phosphates, productivity, propionates,, morbility
Abstract
Guinea pig production systems demand organic alternatives to improve their productivity, due to the increased demands of this type of livestock production. The objective of the present study was to evaluate the effect of organic acids on the productive and reproductive indices in breeding guinea pigs in an intensive breeding farm in Lima. 60 pools with 10 guinea pigs in each one (9 females and one male) were used and they were randomly divided into 4 treatment groups, T1: 1mL / L, T2: 2mL / L, T3: 4mL / L; all with 15 pools in total (5 pools each with a dosage of 5 days, 10 days, and 15 days, respectively), and T4: Control (15 pools without dosage); the observation period was 3 months. No significant difference (p> 0.05) was found between treatments for weight gain, percentage of maternal mortality, percentage of abortions, percentage of pregnancy, number of pups born and percentage of viability. For the percentage of mortality of kittens and average weight at birth of the offspring, a significant difference was found (p <0.05), showing that T3 reached a higher weight index at birth of offspring (T3: 147.7 / 142.7 / 146.8 g) and lower mortality rate in kittens (T3: 0 / 1.8 / 3.0%). No significant difference was found in terms of dosing days. It is concluded that the supplementation with organic acids with T3 (4mL / L) improved the weight at birth of the offspring and the percentage of mortality in kittens.
Downloads
Download data is not yet available.
References
Aliaga, L., Moncayo, R., Rico, E., & Caycedo. A. (2009). Producción de cuyes. Lima, Perú. Editorial de la Universidad Católica Sedes Sapientiae. 808 p.

Bazay, G., Carcelén, F., Ara, M., Jiménez, R., Gonzales, R. & Quevedo, W. (2014). Efecto de los manano-oligosacáridos sobre los parámetros productivos de cuyes (cavia porcellus) durante la fase de engorde. Rev Inv Vet Perú 25(2): 198-204


Bourassa, D.V., Wilson, K.M., Ritz, C.R., Kiepper, B.K., & Buhr, R.J. (2018). Evaluation of the addition of organic acids in the feed and/or water for broilers and the subsequent recovery of Salmonella Typhimurium from litter and ceca. Poult Sci. 97(1): 64-73. doi: 10.3382/ps/pex289.

Cano, J., Carcelén, F., Ara, M., Quevedo, W., Alvarado, A., & Jiménez, R. (2016). Efecto de la suplementación con una mezcla probiótica sobre el comportamiento productivo de cuyes (Cavia porcellus) durante la fase de crecimiento y acabado. Rev Inv Vet Perú 27(1): 51-58. http://dx.doi.org/10.15381/rivep.v27i1.11458

Chuquizuta, C., & Morales, S. (2017). Identificación de agentes bacterianos patógenos aislados de gazapos muertos de cuyes en una granja de crianza intensiva en Lima, Perú. Rev. Electrón. Vet. 18(12):1-13.

Dittoe, D.K., Ricke, S.C., & Kiess, A.S. (2018). Organic Acids and Potential for Modifying the Avian Gastrointestinal Tract and Reducing Pathogens and Disease. Front. Vet. Sci. 5: 216. doi: 10.3389/fvets.2018.00216. eCollection 2018.

Gonzáles, S., Icochea, E., Reyna, P., Guzmán, J., Cazorla, F., Lúcar, J., Carcelén, F., & San Martin, V. (2013). Efecto de la suplementación de ácidos orgánicos sobre los parámetros productivos en pollos de engorde. Rev. Inv. Vet. Perú. 24 (1): 32-37.

Guevara, J., Tapia, N., Condorhuamán, C., Díaz, P., Carcelén, F., & Peña, D. (2015) Efecto del probiótico nativo del cuy (Cavia porcellus) suplementado a las madres sobre el peso de las crías al nacimiento y al destete. Rev. Per. Quím. Ing. Quím. 18(2): 73- 77.

Grecco, H.A.T., Amorim, A.B., Saleh, M.A.D., Tse, L.P.M., Telles, F.G., Miassi, G.M., Pimenta, G.M., & Berto, D.A. (2018). Evaluation of growth performance and gastro-intestinal parameters on the response of weaned piglets to dietary organic acids. An. Acad. Bras. Cienc. 19; 90(1):401-14. doi: 10.1590/0001-3765201820160057

[INEI] Instituto Nacional de Estadistica e Informatica (2017). Compendio estadístico Lima provincias 2016. (Sistema estadístico nacional). p588

Jiménez, R., & Huamán, R. (2010). Manual para el manejo de reproductores híbridos especializados en producción de carne. Instituto Veterinario de Investigaciones Tropicales y de Altura Universidad Nacional de San Marcos. Mantaro – Perú. 175 p.

Ke, W.C., Ding, W.R., Xu, D.M., Ding, L.M., Zhang, P., Li, F.D., & Guo, X.S. (2017). Effects of addition of malic or citric acids on fermentation quality and chemical characteristics of alfalfa silage. J. Dairy. Sci. 100(11): 8958-8966. doi: 10.3168/jds.2017-12875.

Liu, Y., Espinosa, C., Abelilla, J., Casas, G., Lagos, V., Lee, S., Kwon, W., Mathai, J., Navarro, D., Jaworski, N., & Steinb, H. (2018). Non-antibiotic feed additives in diets for pigs: A review. Anim Nutr. 4(2): 113–125. doi: 10.1016/j.aninu.2018.01.007

Matsuura, A., Morales, S., Calle, E., & Ara, M. (2010). Susceptibilidad a antibacterianos in vitro de Salmonella enterica aislada de cuyes de crianza familiar-comercial en la provincia de Carhuaz, Ancash. Rev Inv Vet Perú 21(1): 93-99

Morales, S., Mattos, J., & Calle, S. (2013). Efecto de la muña (Satureja parvifolia) en la dinámica de la infección por Salmonella entérica en cobayos. Rev. Científica 10 (2): 123-134.

Morales, S. (2012). Patógenos oportunistas por transmisión fecal-oral en cuyes reproductores introducidos al distrito de San Marcos. Científica 9 (1): 33-38.

Morales, S (2017). Patógenos bacterianos y parasitarios más frecuentes en cuyes de crianza familiar - comercial en tres distritos de la Provincia de Bolognesi, Departamento de Ancash en época de seca (Tesis de maestría). Universidad Nacional Mayor de San Marcos, Lima, Perú.

Morales-Cauti, S. (2018). Enfermedades emergentes en la producción de cuyes en el Perú. En: XLI Reunión Científica Anual APPA. Lima: Asociación Peruana de Producción Animal.

Ruggeri, J., Foresti, F., Pavesi, R., Terrini, A., Giudici, F., Padoan, D., Corradi, A., Ossiprandi, M.C., Pasquali, P., & Alborali, G.L. (2018). The synergistic effect of organic acids, phytochemicals and a permeabilizing complex reduces Salmonella Typhimurium 1,4,[5],12:i-shedding in pigs. Vet Res Commun. 42(3):209-217. doi: 10.1007/s11259-018-9723-3.

Sánchez-Silva M., Carcelén F., Ara M., Gonzales R., Quevedo W., & Jiménez R. (2014). Efecto de la suplementación de ácidos orgánicos sobre parámetros productivos del cuy (cavia porcellus). Rev Inv Vet Perú 25(3): 381-389.

Suryanarayana A., Suresh J., & Rajasekhar M. (2012). Organic acids in swine feeding a review. Agric. Sci. Res. J. 2(9): 523- 533.

Upadhaya, S.D., Lee, K.Y., & Kim, I.H. (2014). Protected Organic Acid Blends as an Alternative to Antibiotics in Finishing Pigs. Asian-Australas J Anim Sci. 27(11): 1600–1607. doi: 10.5713/ajas.2014.14356

Vargas, M., Chávez, A., Pinedo, R., Morales, S., & Suarez, F. (2014). Parasitismo gastrointestinal en dos épocas del año en cuyes (Cavia porcellus) de Oxapampa, Pasco. Rev Inv Vet Perú, 25 (2): 276 – 283.

Waldroup, A., Kaniawati, S., & Mauromoustakos, A. (1995). Performance Characteristics and Microbiological Aspects of Broilers Fed Diets Supplemented with Organic Acids. J Food Prot. 58(5): 482-489. doi: 10.4315/0362-028X-58.5.482.

Xiong, X., Tan, B., Song, M., Ji, P., Kim, K., Yin, Y., & Liu, Y. (2019). Nutritional Intervention for the Intestinal Development and Health of Weaned Pigs. Front Vet Sci. 21; 6: 46. doi: 10.3389/fvets.2019.00046.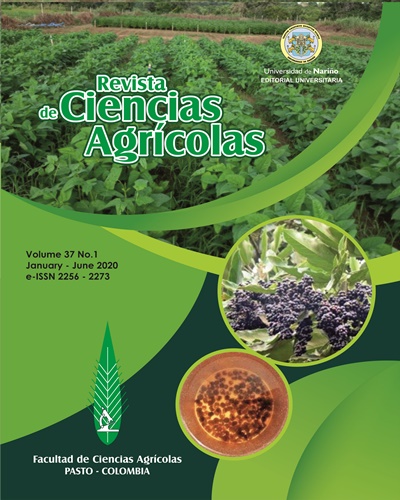 How to Cite
Morales, S., & Vela, C. A. (2020). Effect with organic acid supplementation on productive and reproductive parameters in guinea pigs. Revista De Ciencias Agrícolas, 37(1). Retrieved from https://revistas.udenar.edu.co/index.php/rfacia/article/view/5638