Síntomas de deficiencia de elementos mayores y secundarios, en tomate de arbol Cyphomandra betacea (Cav.) Sendt, bajo condiciones controladas
Alberto Edison Unigarro Sanchez

Universidad de Nariño

Johana Marlene Riacos Pinchao

Universidad de Nariño

Lorena Elizabeth Yazulan Quenoran

Universidad de Nariño
Keywords:
dry matter, growth, hidroponic, technique of the element missing
Abstract
By means of the missing element technique, under hydroponic conditions, it was identified the biggest and smaller symptoms of deficiency of elements in tree tomato Cyphomandra betacea. Seven treatments were compared: a control, where the plants grew with all the essentials nutriments and six faulty treatments in N, P, K, Ca, Mg and S. were used a design totally at random (ANOVA) with four repetitions and a plastic recipient of a liter of capacity like experimental unit. The variables were evaluated: consumption of water, shaft longitude, growth, root volume, shaft diameter, weight of dry matter of the air part and root. The results of the Tukey test was statistically significant only for the consumption of solution variables, basal stem diameter and root volume. For the description of symptoms was carried out a photographic sequence. The plants under nitrogen deficiency and calcium were the most affected, serious problems were evident in growth and development. For phosphorus and potassium in the vegetative phase were not expressed symptoms that are reported in the literature while the deficiencies of nitrogen, magnesium and sulfur if the symptoms were evident.
Downloads
Download data is not yet available.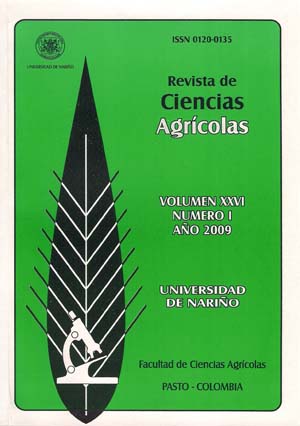 How to Cite
Unigarro Sanchez, A., Riacos Pinchao, J., & Yazulan Quenoran, L. (2009). Síntomas de deficiencia de elementos mayores y secundarios, en tomate de arbol Cyphomandra betacea (Cav.) Sendt, bajo condiciones controladas. Revista De Ciencias Agrícolas, 26(1), 186-204. Retrieved from https://revistas.udenar.edu.co/index.php/rfacia/article/view/2072