Evaluation of the macrofauna of the soil associated to different systems with cofee Coffea arábiga L.
Gilma Delgado

Universidad de Nariño, Facultad de Ciencias Agrícolas. Pasto, Colombia

Aracely Burbano

Universidad de Nariño, Facultad de Ciencias Agrícolas. Pasto, Colombia

Amanda Silva Parra

Universidad de Nariño, Facultad de Ciencias Agrícolas. Pasto, Colombia
Keywords:
abundance, richness, diversity, vertical distribution.
Abstract
The study was carried in municipality of San Pedro De Cartago, Department of Nariño, located 1 ° 35'21''N and 77 ° 08'38"W. It investigation about a macrofauna of soil associated with different ways of production of Coffea arabiga: C. arabiga and Musa sapientum, C. arabiga and Inga edulis L. and C. arabiga and the forest. The sample did methodology the Tropical Soil Biology and Fertility Program (TSBF) Oliveira, 2000. The higher abundance of macrofauna was found in the forest uses and C. arabiga associated with M. sapientum, then the associated system of C. arabiga with Inga edu­lis, the lowest percentages in the monocultivo C. arabiga. The results indicated that the forest and the system agroforestal C. arábiga and I. edulis they presented a main diversity and biomass, to di­fference of the system C. arabiga in monocultivo which determined the lowest level. The C. arabiga was different, because it found the lowest level. Respect to the vertical distribution most produc­tivity and diversity in the level 0 to 10 cm, with 15 families that made 4496 i.p.m2, and a diversity chagod of 0,52 the system C. arabiga and I. edulis and 0,32 for C. arabiga in according to Simpson.
Downloads
Download data is not yet available.
Visits to the article summary page: 627
References
ACERO, D. 2001. Árboles de la zona Cafetera de Colombia. Fondo Cultural Cafetero. 307 p.
ALTIERI, N., ZERBINO, A., MORÓN, A. 2005. Biodiversidad del suelo bajo diferentes sistemas de producción. XXI Reuniao do Grupo Técnico em Forrageiras do Cone Sul Grupo Campos. Desaíos e oportunidaes do Bioma Campos frente a Expansao e Intensificacao Agrícola.
BACA, B., SOTO, L., PARDO, M. 2002. Fijación biológica del nitrógeno y agricultura orgánica versus agricultura convencional. Revista numero-38.
BERMUDEZ, M. 1980. Erosión hídrica y escorrentía superficial en el sistema de café (Coffea arabica L.) Poró (Eritrina poepiggiana Walpers O.F. Cook) y Laurel (Cordia alliodora R.P. Cham) en Turrialba, Costa Rica. Turrialba, IICA. 74 P.
BONILLA, C., BURBANO, H., CASTRO, J. 2007. Abundancia y biomasa de organismos edáficos en tres usos del terreno en el altiplano de Pasto. Palmira, Universidad Nacional de Colombia, Acta Agronómica.
CARDONA, D Y SIAVOSH, S. 2005. Beneficios del sombrío de guamo en suelos cafeteros. Chinchiná, Avances técnicos de Cenicafé, divulgación científica ISSN-0120-0178.
CARDONA Y SIAVOSH, S. 2005. Aporte de material orgánico y nutrientes en cafetales al sol y bajo sombrío de guamo. Chinchiná, Avances técnicos de Cenicafé, divulgación científica ISSN-0120-0178.
CARDOSO, I., BODDINGTON, C., JANSSEN, B., OENEMA, O., KUYPER, T. 2003. Distribution of mycorrizal fungal spores in soils under agroforestry and monocultural coffee systems in Brazil. Agroforestry Systems 58:33–43.
CENICAFE. 2005. Sistemas Agroforestales de producción de café. (en línea) consultado el 20 de sep de 2005, Disponible en: htp://www.Cenicafe.org/modules.php?name=Sistemas_Produccion&file=sisagr.
CORREIA, F., MARIA, E., OLIVEIRA, M., LUÍS C. 2000. Fauna de solo: aspectos gerais e metodológicos. Seropédica: Embrapa Agrobiologia, 46p. ISSN 1517-8498.
DENNIS, P, 2001. Los cambios en los ensambles de especies de artrópodos en relación con el establecimiento silvopastoriles en los pastizales de montaña. 7(3) 14 -21.
FERNANDEZ, M., M. DE OLIVEIRA, L.2000. Fauna de solo:Aspectos Gerais e metodológicos. Empresa Brasileira de Pesquisa Agropecuária Agro biologia. Ministério da Agricultura e do Abastecimiento, Número 112.
FAO, 2002. Informe del Taller Técnico Internacional organizado por EMBRAPA- Soybean, en Londrina, Brasil, del 24 al 27 de junio (Informe No.101 Mundial de FAO sobre Suelos, FAO, Roma, 2002). Disponible también en: http://www.fao.org/ag/agl/agll/soilbiod/docs/WSRR%20101%20Complete.pdf
FEDERACIÓN NACIONAL DE CAFETEROS DE COLOMBIA. BOGOTÁ. COLOMBIA 2009 Sistema de información cafetera. Encuesta Nacional Cafetera SICA. Estadísticas Cafeteras. Informe final. Bogotá, FNC. 178p
GAMBOA, M., CASTILLO, A. 2009. Evaluación De La Macrofauna Del Suelo Bajo Diferentes Usos En El Municipio De La Unión, Departamento de Nariño, Colombia. Trabajo de grado (Ingeniero Agroforestal). Universidad de Nariño. Facultad de Ciencias Agrícolas. Programa de Ingeniería Agroforestal.
IGAC, 1996. INSTITUTO GEOGRAFICO AGUSTIN CODAZZI, Subdirección de Agrolo- gía, Suelos de Colombia, Bogotá: Canal Ramírez Antares LTDA. 1995. 460p.
JIMENEZ, J., MORENO, G., DECAENS, T., LAVELLE, P. 2003. Comunidades de lombrices en las sabanas nativas y en los pastizales introducidos en los llanos orientales de Colombia. Colombia. Cali. CO. pp 57-75.
LAVELLE, P. 2000. El impacto de la fauna del suelo en las propiedades del suelo en los trópicos húmedos. En: Mitos y Ciencia de los suelos de los trópicos. pp.23.29.
LAVELLE, P. 2001. Soil Ecology. Kluwer Academic Publishers, Países Bajos. 654 p
MONTENEGRO, J. 2005. Efectos del aporte de nutriente de la biomasa de tres tipos de sombra en sistemas de manejo de café orgánico y convencional. Tesis Mag. Sc. Turrialba, Costa Rica, CATIE. PP.12-25.
MONTERREY, J., SUAREZ, D., GONZÁLEZ, M. 2001. Comportamiento de insectos en sistemas agroforestales con café en el Pacífico Sur de Nicaragua. Agroforestería en las Américas 8(29):15–21
NAVIA, J. 2003. Impacto de los diferentes sistemas de uso de la tierra sobre la biota del suelo en el departamento del Cauca. Palmira, valle del Cauca. Colombia. Proyecto para en ciencias agrarias: énfasis en suelos. Universidad Nacional de Colombia, sede Palmira, escuela de postgrados. Palmira. pp 6-12.
OLIVIERA, E.P, 2000. Estudo dos Invertebrados Terrestres e Distribuicao vertical em diferentes Ecosistemas da Amazonía Central. In: XIII Congreso Latinoamericano de Ciencia do Solo. Aguas de Lindota –Sp. Resumo expandido en CD Rom.
OTINIANO, A., PEREZ, R., COSTA, R. 2002. Efecto de la sombra y la fertilización de hongos, bacterias y macroorganismos del suelo en café variedad Catimor. Villa Rica, selva central del Perú. Café Cacao. Pp 74-77.
PARDO, L., CLAUDIA, P., VÉLEZ. F., SEVILLA, E. 2006.Abundancia y biomasa de macroinvertebrados edáficos en la temporada lluviosa, en tres usos de la tierra, en los andes colombianos. Universidad del Valle, Investigación desarrollada con la orden de trabajo 5102 del Grupo Empresarial Sostenible CVC. Editado para publicación en el marco de la disertación doctoral en Biología, pp1-2
RODRÍGUEZ C, 2005. Caracterización físico química del suelo en tres coberturas vegetales y su relación con la macrofauna del suelo en la vereda La Josefina municipio de Pasto, Nariño, 2001. Trabajo de grado (Ingeniera Agroforestal). Universidad de Nariño. Facultad de Ciencias Agrícolas. Programa de Ingeniería Agroforestal.
SCULLION, J., NEALE, S., PHILIPPS, L. 2002. Comparisons of earthworm populations and cast properties in conventional and organic arable rotations. Soil Use and Management 18:293-300.
SEVILLA, F., OBERTHÜR, T., USMA, H., ESCOBAR, G., PARDO L., NARVÁEZ, G. 2002. Exploración de la presencia y abundancia de la cleopterofauna edáfica en diferentes usos de la tierra en una microcuenca del departamento del Cauca. En: Congreso Nacional de Ciencias Biológicas, 37. Ponencias. San Juan de Pasto. Universidad de Nariño. 274 p.
SOMARRIBA, E., BEER, J., MUSCHLER, G. 2001. Los métodos de investigación para los estratos múltiples sistemas agroforestales con café y el cacao: las recomendaciones de dos décadas de investigación en el CATIE. Agroforestry Systems 53(2): 195-203
SPAIN, A., LAVELLE, P., MARIOTTI, A. 2001. Stimulation of plant growth by tropical earthworms. Soil Biology and Biochemistry, 24:1629-1633.
STEEL y TORRIE. 1992. Bioestadística. Princi- pios y Procedimientos. Editorial
STILES, FRANK. 2000. Curso "Muestreo y aná- lisis estadístico en investigaciones biológicas" Universidad de Nariño, Facultad de Ciencias Naturales y Matemáticas, Programa de Educación Ambiental, p 50. Wisconsin. pp. 157-185.
ZERBINO, S., ALTIER, N., MORON, A., RODRI- GEZ C. 2007. Efecto del pastoreo de una pradera natural sobre la macrofauna del suelo. Pp 1-2. In: Seminario efecto del pastoreo de una pradera natural sobre la macrofauna del suelo. Tacua- renbó, Uruguay.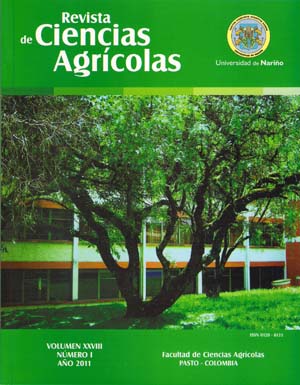 How to Cite
Delgado, G., Burbano, A., & Silva Parra, A. (2011). Evaluation of the macrofauna of the soil associated to different systems with cofee Coffea arábiga L. Revista De Ciencias Agrícolas, 28(1), 91-106. Retrieved from https://revistas.udenar.edu.co/index.php/rfacia/article/view/34