Response of bean lima the application of organic fertilizer based on solid waste fique
Heydi Alejandra Pupiales Criollo

Estudiante de Ingeniería Agroforestal, Universidad de Nariño, Facultad de Ciencias Agrícolas. Pasto, Colombia.

Jorge Alirio Pupiales Criollo

Estudiante de Ingeniería Agroforestal, Universidad de Nariño, Facultad de Ciencias Agrícolas. Pasto, Colombia.

Amanda Silva Parra

Ingeniero Agrónomo, M.Sc., Profesor catedrático. Universidad de Nariño, Facultad de Ciencias Agrícolas. Pasto, Colombia
Keywords:
fertilization, yield, economic analysis.
Abstract
We evaluated the response of beans var. Lima (Phaseolus vulgaris L) to fertilization based solid waste fique based on plant height, pods per plant, seeds per pod, hundred seed weight and yield. Differences were statistically significant (p <0.01) for all variables at least one hundred weight of seeds. The partial results showed the treatment 7 organic fertilizer made from solid waste fique + cow manure + urea + molasses matched in all cases to treatment 1 with Urea and 13-26-6 for plant heigth, pods per plant, seed per pod, hundred see weigth and yield for tretament 1 with Urea, demonstrating its technical feasibility. He plots without fertilization had minimal effect on all variables analyzed. The economic analysis showed that treatment 4 organic fertilizer from solid waste fique offered a higher marginal rate of return 866% compared to treatment 1 with urea presented a marginal rate of return of 386%.
Downloads
Download data is not yet available.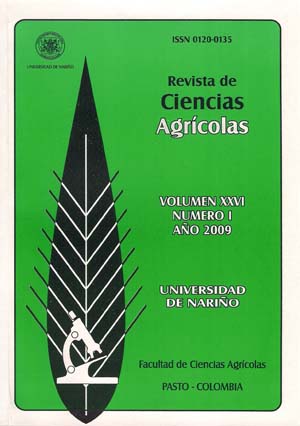 How to Cite
Pupiales Criollo, H., Pupiales Criollo, J., & Silva Parra, A. (2009). Response of bean lima the application of organic fertilizer based on solid waste fique. Revista De Ciencias Agrícolas, 26(1), 46-66. Retrieved from https://revistas.udenar.edu.co/index.php/rfacia/article/view/66