Agronomic performance of lulo de castilla grafts Solanum quitoense Lam. on patterns of Solanum Spp.
Keywords:
Micrografting, compatibility, S. hirtum, rootstock, Fusarium oxysporum.
Abstract
This research was directed to the evaluation of the agronomic performance of two types of graft of lulo de Castilla S. quitoense in different patterns of Solanum spp., under conditions of Llano Largo and Villamoreno villages using the grafting central pua type method both in-vivo and ex-vitro; a complete random blocks design was used with three replications and 20 treatments; plant were sowed at 2,50 m of distance between plants and 3 m between rows; the experimental unit was formed by six plants with an area of 45 m2; species used as rootstocks were S. mammosum, S. hirtum, S. marginatum, S. umbellatum and S. sessiliflorum. The compatibility of the graft ranged between 1,0 and 1,1 cm, finding an appropriate compatibility in each of the evaluated treatments; the highest yield was obtained in Llano Largo locality without differences between treatments; in Villamoreno, the best result, (12.4 t/ha/year) was observed with ex-vitro grafting S. quitoense var. quitoense into the rootstock S. hirtum, without significant differences respect to check, S.quitoense var. quitoense (8,7 t/ ha/year) conducted ex-vitro; mortality of the rootstock S. mammosum was observed with the ex-vitro grafting technique and in-vivo micrografting.
Downloads
Download data is not yet available.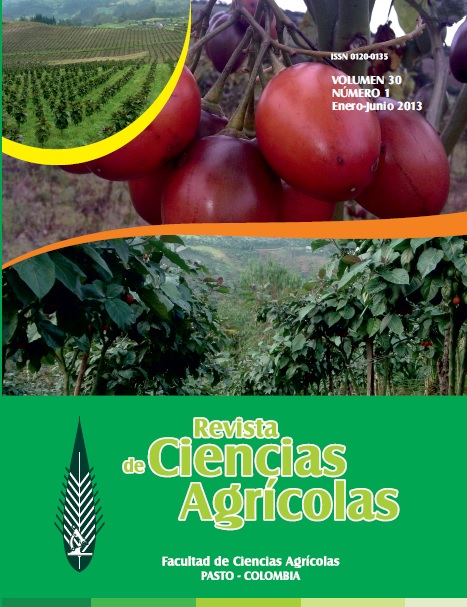 Downloads
How to Cite
Jurado, J. C., Pérez, L. J., Lagos, T. C., & Benavides, C. A. (2013). Agronomic performance of lulo de castilla grafts Solanum quitoense Lam. on patterns of Solanum Spp. Revista De Ciencias Agrícolas, 30(1), 54–64. Retrieved from https://revistas.udenar.edu.co/index.php/rfacia/article/view/969