Responsabilidad social empresarial como determinante de la intención de compra del consumidor: un análisis mediante modelamiento con ecuaciones estructurales
Palabras clave:
intención de compra, consumidor, sostenibilidad, responsabilidad social empresarial, modelos multivariados
Resumen
Los consumidores están cambiando sus preferencias y prioridades de compra en atención a la implementación de prácticas de Responsabilidad Social Empresarial (RSE) vistas desde las dimensiones social, ambiental y económica, buscando minimizar el impacto negativo que las organizaciones pueden generar en su entorno. De ahí que, el objetivo de este artículo sea analizar la relación existente entre las tres dimensiones de la RSE y su influencia en la intención de compra de los consumidores. Para tal fin, se realizaron 107 encuestas en línea auto-administradas, de las cuales se obtuvieron 20 variables observables, 3 variables latentes endógenas y 1 exógena. La modelación se hizo con ecuaciones estructurales (SEM por sus siglas en inglés). Los hallazgos sugieren que las actividades de RSE que hace una organización y que están relacionadas con asuntos sociales, ambientales y económicos se asocian positivamente con la intención de compra, sin embargo, se encontró la relación con la dimensión económica no es tan fuerte como con las dos primeras.
Descargas
La descarga de datos todavía no está disponible.
Visitas al resumen del artículo: 839
Referencias
(1) Abdeen, A., Rajah, E., y Gaur, S. (2016). Consumers' beliefs about firm's CSR initiatives and their purchase behaviour. Marketing Intelligence and Planning, 34(1), 2-18. doi: 10.1108/MIP-06-2014-0107
(2) Agarwal, S. y Kasliwal, N. (2017). The Effect of Age as a Moderator on Green Purchase Behavior in Hotel Industry. IPE Journal of Management, 7(2), 53-63.
(3) Alvarado, A., Bigne, E., Aldas, J. y Curras, R. (2017). A Scale for Measuring Consumer Perceptions of Corporate Social Responsibility Following the Sustainable Development Paradigm. Journal of Business Ethics, 140(2), 243-262. doi: 10.1007/s10551-015-2654-9
(4) Artaraz, M. (2002). Teoría de las tres dimensiones de desarrollo sostenible. Revista Ecosistemas, 11(2). doi: 10.7818/re.2014.11-2.00
(5) Ashman, R. y Patterson, A. (2015). Seeing the big picture in services marketing research: infographics, SEM and data visualisation. Journal of Services Marketing, 29(6/7), 613-621. doi: 10.1108/JSM-01-2015-0024
(6) Boronat, M. y Pérez, J. A. (2019). Consumers' perceived corporate social responsibility evaluation and support: The moderating role of consumer information. Tourism Economics, 25(4), 613-638. doi: 10.1177/1354816618812297
(7) Brundtland, G. H., Khalid, M., Agnelli, S. y Al-Athel, S. (1987). Our common future. New York.
(8) Calderón, A. J., Cassettari, P. C., Rutkowski, E. W. y de Lima Isaac, R. (2019). Landfill mining as a strategic tool towards global sustainable development. Journal of Cleaner Production, 226, 1102-1115. doi: 10.1016/j.jclepro.2019.04.057
(9) Daza, R. (2009). A valuation model for corporate social responsibility. Social Responsibility Journal, 5(3), pp-284-299. doi: 10.1108/17471110910977230
(10) Docherty, P., Kira, M. y Shani, A. B. (2008). Creating Sustainable Work Systems: Developing Social Sustainability. Routledge.
(11) Elkington, J. (1994). Towards the Sustainable Corporation: Win-Win-Win Business Strategies for Sustainable Development. California Management Review, 36(2), 90-100. doi: 10.2307/41165746
(12) Ferraz, S. B., Buhamra, C., Laroche, M. y Veloso, A. R. (2017). Green Products: A Cross-Cultural Study of Attitude, Intention and Purchase Behavior. Revista de Administração Mackenzie; São Paulo, 18(5), 12-38. doi: 10.1590/1678-69712017/administracao.v18n5p12-38
(13) Galuppo, L., Gorli, M., Scaratti, G. y Kaneklin, C. (2014). Building social sustainability: multi-stakeholder processes and conflict management. Social Responsibility Journal, 10(4), 685-701. doi: 10.1108/SRJ-10-2012-0134
(14) Golob, U. y Kronegger, L. (2019). Environmental consciousness of European consumers: A segmentation-based study. Journal of Cleaner Production, 221, 1-9. doi: 10.1016/j.jclepro.2019.02.197
(15) Gonçalves das Neves, J., Mouro, C. y Duarte, A. (2010). Corporate social responsibility: mapping its social meaning. Management Research: Journal of the Iberoamerican Academy of Management, 8(2), 101-122. doi: 10.1108/1536-541011066461
(16) Gupta, S. (2013). Consumer stakeholder view of corporate social responsibility: a comparative analysis from USA and India. Social Responsibility Journal, 7(3), 363-380. doi: 10.1108/17471111111154518
(17) Joo, S., Miller, E. G. y Fink, J. S. (2019). Consumer evaluations of CSR authenticity: Development and validation of a multidimensional CSR authenticity scale. Journal of Business Research, 98, 236-249. doi: 10.1016/j.jbusres.2019.01.060
(18) Kong, Y. y Chen, H. (2009). Chinese consumer perceptions of socially responsible consumption. Social Responsibility Journal, 5(2), 144-151. doi: 10.1108/17471110910964441
(19) McCarthy, L., Claudy, M., Marshall, D. y McGrath, P. (2015). Going above and beyond: how sustainability culture and entrepreneurial orientation drive social sustainability supply chain practice adoption. Supply Chain Management, 20(4), 434-454. doi: 10.1108/SCM-08-2014-0267
(20) McLennan, S. y Banks, G. (2019). Reversing the lens: Why corporate social responsibility is not community development. Corporate Social Responsibility and Environmental Management, 26(1), 117-126. doi: https://doi.org/10.1002/csr.1664
(21) Mohd, R., Ismail, M. y Alias, S. N. (2015). Community as stakeholder of the corporate social responsibility programme in Malaysia: outcomes in community development. Social Responsibility Journal, 11(1), 109-130. doi: 10.1108/SRJ-05-2013-0053
(22) Mustafa, S. A., Othman, A. R. y Perumal, S. (2012). Corporate Social Responsibility and Company Performance in the Malaysian Context. Procedia - Social and Behavioral Sciences, 65, 897–905. doi: 10.1016/j.sbspro.2012.11.217
(23) Pérez, S. A., y Topa, G. (2018). Percepciones sobre la responsabilidad social corporativa de las empresas: relación con las actitudes y conductas de sus clientes. Acción Psicológica; Madrid, 15(1), 103-119. doi: 10.5944/ap.15.1.22003
(24) Plasencia, J. A., Marrero, F., Bajo, A. M. y Nicado, M. (2018). Modelos para evaluar la sostenibilidad de las organizaciones. Estudios Gerenciales, 34(146), 63-73. doi: 10.18046/j.estger.2018.146.2662
(25) Rahim, R. A., Jalaludin, F. W. y Tajuddin, K. (2011). The importance of Corporate Social Responsibility on consumer behaviour in Malaysia. Asian Academy of Management Journal, 16(1), 119-139.
(26) Roscoe, J. T. (1975). Fundamental Research Statistics for the Behavioral Science. New York, The United States of America: Holt, Rinehart and Winston Inc.
(27) Ruiz, M., Pardo, A. y San Martín, R. (2010). Modelos de Ecuaciones estructurales. Papeles del Psicólogo, 31(1), 34-45.
(28) Smith, A. D. (2013). Corporate social responsibility practices in the pharmaceutical industry. Business Strategy Series, 9(6), 306-315. doi: 10.1108/17515630810923612
(29) Tuan, A., Dalli, D., Gandolfo, A. y Gravina, A. (2019). Theories and methods in CSRC research: a systematic literature review. Corporate Communications: An International Journal, 24(2), 212-231. doi: 10.1108/CCIJ-11-2017-0112
(30) Wang, C. y Lee, J. (2018). Doing Right Matters in Doing Good: The Role of CSR Fit on Building Company Credibility and Reputation Through Consumer Attributions. Journal of Leadership, Accountability and Ethics, 15(1), 11-28. doi: 10.33423/jlae.v15i1.627
(31) Xiao, Q., Heo, C. Y. y Lee, S. (2017). How do consumers' perceptions differ across dimensions of corporate social responsibility and hotel types? Journal of Travel & Tourism Marketing, 34(5), 694-707. doi: 10.1080/10548408.2016.1232671
(32) Yang, F. (2017). Integrating corporate social responsibility and profitability into best practice selection: the case of large Taiwanese firms. Quality & Quantity, 51(4), 1493-1512. doi: 10.1007/s11135-016-0348-8
(33) Yeo, A. C.-M., Lee, S. X.-M. y Carter, S. (2018). The influence of an organisation's adopted corporate social responsibility constructs on consumers' intended buying behaviour: a Malaysian perspective. Social Responsibility Journal, 14(3), 448-468. doi: 10.1108/SRJ-05-2016-0082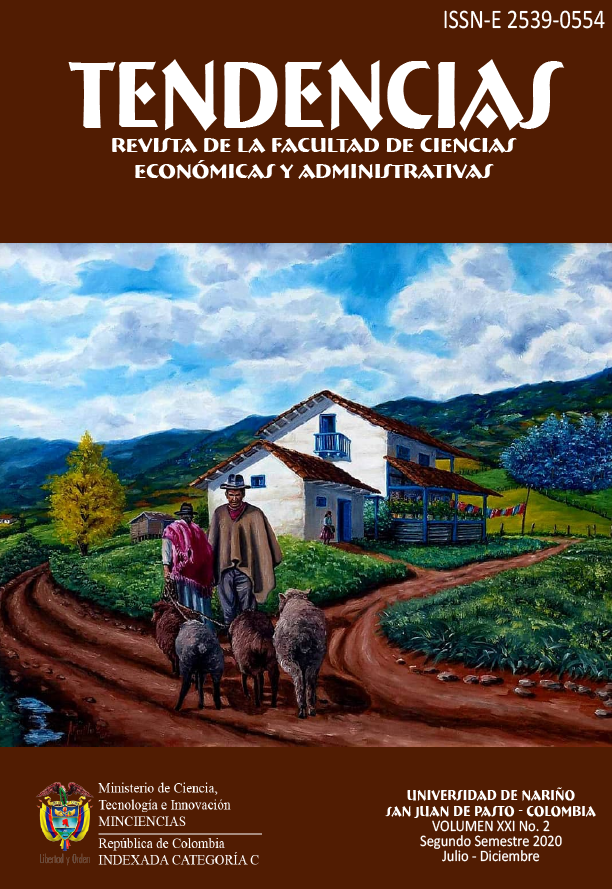 Cómo citar
Enciso Alfaro, S., Ruiz Acosta, L., & Camargo Mayorga, D. (2020). Responsabilidad social empresarial como determinante de la intención de compra del consumidor: un análisis mediante modelamiento con ecuaciones estructurales. Tendencias, 21(2), 1-18. https://doi.org/10.22267/rtend.202102.138
Sección
Artículos de Investigación
Derechos de autor 2020 Tendencias
Esta obra está bajo licencia internacional
Creative Commons Reconocimiento-NoComercial 4.0
.
Aquellos autores/as que tengan publicaciones con esta revista, aceptan los términos siguientes:
Esta revista está bajo una Licencia Creative Commons Reconocimiento-NoComercial 4.0 Internacional License. Los artículos se pueden copiar, distribuir, adaptar y comunicar públicamente, siempre y cuando se reconozcan los créditos de la obra y se cite la respectiva fuente. Esta obra no puede ser utilizada con fines comerciales.
Para aumentar su visibilidad, los documentos se envían a bases de datos y sistemas de indización.
El contenido de los artículos es responsabilidad de cada autor y no compromete, de ninguna manera, a la revista o a la institución.