Eficacia de diferentes diodos emisores de luz (LEDs) unidos a trampas adhesivas amarillas para la captura de la mosca blanca Trialeurodes vaporariorum
Jorge Eduardo Castresana

Estación Experimental Agropecuaria Instituto Nacional de Tecnología Agropecuaria Concordia

Laura Elena Puhl

Universidad de Buenos Aires
Palabras clave:
Trampas, aleyrodidae, longitud de onda, tarjetas adhesivas amarillas.
Resumen
Teniendo en cuenta que algunos adultos de insectos muestran preferencia a ciertas longitudes de onda, se ha considerado este comportamiento para desarrollar herramientas de monitoreo y estrategias de control de insectos plaga. Como ejemplo de ello, las tarjetas adhesivas amarillas han sido ampliamente usadas para monitorear población de moscas blancas a campo como invernadero. Este estudio tuvo como objetivo evaluar la efectividad de trampas adhesivas amarillas provistas con luces emitidas por diodos (LEDs) para el trampeo de adultos moscas blancas Trialeurodes vaporariorum (Westwood) (Hemiptera: Aleyrodidae). Los ensayos se llevaron a cabo en la EEA INTA Concordia en condiciones de umbráculo, donde se ubicaron jaulas de cría con plantas de tabaco, Solanum tabacum (L.) y poroto, Phaseolus vulgaris L. desde Junio hasta Julio del 2013. Las trampas adhesivas amarillas tuvieron una superficie de 64cm2 provistas con (LEDs) de diferentes longitudes de onda promedio (525 nm verde y 380 nm UV) y sin LED como testigo. Los ensayos mostraron que los adultos de mosca blanca fueron significativamente (p >0,05) más atraídos por las trampas equipadas con LED 525nm verde (134 ± 7,4 adultos/tarjeta) comparadas con trampas equipadas con LED 380 nm UV (105 ± 7,4 adultos/tarjeta) y trampas sin LED (85,17 ± 7,4 adultos/tarjeta). Estos resultados muestran que los adultos de T. vaporariorum son atraídos a trampas dotadas con LED verde, las cuales podrían tener un promisorio uso en invernadero como detección, monitoreo y control de mosca blanca.
Descargas
La descarga de datos todavía no está disponible.
Referencias
BLACKMER, J., D.N. BYRNE, Z. and TU. 1995. Behavioral, morphological, andphysiological traits associated with migratory Bemisia tabaci (Homoptera: aleyrodidae). Journal of Insect Behavior. 8:251 - 267.
CHU, D.,Y. ZHANG, B. CONG, B. XU, AND Q. WU, 2004. The invasive mechanism of a worldwide important pest, (Bemisia tabaci) (Gennadius) biotype B. Acta Entomologica Sinica. 47(3): 400 - 406.
COLAMARINO, I. N., CURCIO, F., OCAMPO, AND C. TORRANDELL, 2006. "En la mesa de todos". Revista Alimentos Argentinos. 33:45 - 50. COOMBE, P. E. 1982. Visual behaviour of the greenhouse whitefly, Trialeurodes vaporariorum. Physiological Entomology. 7(3): 243 - 251.
GERLING, D. 1990. Natural Enemies of whiteflies: Predators and Parasitoids. En: Gerling, D. (ed.), Whiteflies: their bionomics, pest status and management. Intercept, Andover UK. 147 - 186.
GONZÁLEZ-ZAMORA, J.E., M.J. BELLIDO, D. LEIRA, AND C. AVILLA. 2004. Evaluation of the effect of different insecticides on the survival and capacity of Eretmocerus mundus Mercet to control Bemisia tabaci (Gennadius) populations. Crop Protection. 23: 611 - 618.
GU, X.S., W.J. BU, W.H. XU, Y.C. BAI, B.M. LIU, AND T. X, LIU. 2008. Population suppression of Bemisia tabaci (Hemiptera: Aleyrodidae) using yellow sticky traps and Eretmocerus nr. rajasthanicus (Hymenoptera: Aphelinidae) on tomato plants in greenhouses. Insect Science. 15: 263 - 270.
CENSO NACIONAL AGROPECUARIO (CNA).2002 "Definiciones censales y metodología de relevamiento" In: http://www.indec.mecon.ar/; consulta: septiembre, 2015.
KASS, D.E., W. MCKELVEY, G. VAN WYE, B. KERKER, F. MOSTASHARI, ANDD. EISENHOWER, 2005. Pests can be controlled. Safely NYC Vital Signs. 4(3), 1 - 4. In: http://www.nyc.gov/html/doh//downloads/pdf/.../survey2005pest.pdf; query: June, 2009.
MELLOR, H. E., J. BELLINGHAM AND M. ANDERSON. 1997. Spectral efficiency of the glasshouse whitefly Trialeurodes vaporariorum and Encarsia formosa its hymenopteran parasitoid. Entomologia Experimentalis et Applicata. 83(1): 11 - 20.
MOUND, L. A. 1962. Studies on the olfaction and colour sensitivity of Bemisia tabaci (Genn.) Homoptera: Aleyrodidae). Entomologia Experimentalis et Applicata 5:99 - 104.
MOUND, L. A. AND S. H. HALSEY. 1978. Whitefly of the World: A systematic catalog of the Aleyrodidae (Homoptera) with host plant and natural enemy data. John Wiley & Sons, Chichester, British Museum (Natural History), London, UK Chichester. 340 p.
MUTWIWA, U.N., C. BORGEMEISTER, B. VON ELSNER, AND H. TANTAU, 2005. Effects of UV-absorbing plastic films on greenhouse whitefly (Homoptera: Aleyrodidae). Journal Economical Entomology. 98:1221 - 1228.
PALUMBO, J.C., A. R. HOROWITZ, N. AND PRABHAKER, 2001. Insecticidal control and resistance management for Bemisia tabaci. Crop Protection. 20:739 - 765.
PARK, J. J.,J. H. LEE, K. I. SHIN, S. E. LEE, AND K. CHO. 2011. Geostatistical analysis of the attractive distance of two different sizes of yellow sticky traps for greenhouse whitefly, Trialeurodes vaporariorum (Westwood) (Homoptera: Aleyrodidae), in cherry tomato greenhouses. Australian Journal of Entomology. 50:144 - 151.
POLSTON, J. E., R. J. MCGOVERN, AND L.G. BROWN, 1999. Introduction of Tomato yellow leaf curl virus in Florida and implications for the spread of this and other geminiviruses of tomato. Plant Disease. 83:984 - 988.
QUI, B.L. y S.X. REN, 2006. Using yellow sticky traps to inspect population dynamics of Bemisia tabaci and its parasitoids. Chinese Bulletin of Entomology. 43(1): 53 - 56.
RILEY, D. G. AND M. A. CIOMPERLIK, 1997. Regional population dynamics of whitefly (Homoptera: Aleyrodidae) and associated parasitoids (Hymenoptera: Aphelinidae). Environmental Entomology. 26:1049 - 1055.
SCHUBERT, E. F. 2003. Light-Emitting Diodes. Cambridge University Press, Cambridge, U.K. SCHUBERT, E. F. AND H. F. YAO, 2002. Light emitting diode: Research, manufacturing, and applications. VI. SPIE. Bellingham, Wash. 434 p.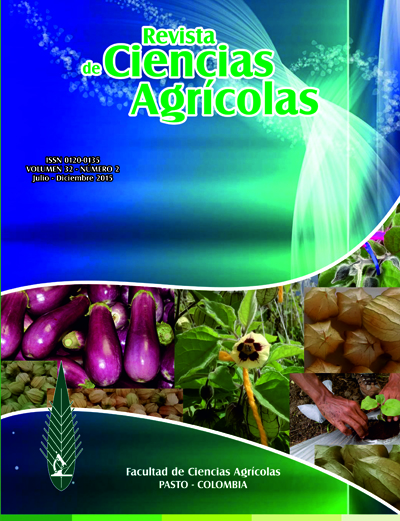 Cómo citar
Castresana, J., & Puhl, L. (2016). Eficacia de diferentes diodos emisores de luz (LEDs) unidos a trampas adhesivas amarillas para la captura de la mosca blanca Trialeurodes vaporariorum. Revista De Ciencias Agrícolas, 32(2), 88-93. https://doi.org/10.22267/rcia.153202.16
Sección
ARTÍCULOS DE INVESTIGACIÓN