Behavior of chemical variables of a soil subject to different uses, department of Nariño, Colombia
Julio César Arteaga J.

Universidad de Nariño

Jorge Fernando Navia E.

Universidad de Nariño

Jesús Antonio Castillo

Universidad de Nariño
Keywords:
organic matter, production systems, chemical properties, andisol.
Abstract
The present study was carries out in an Andisol of the subgrup Vitric haplustands, located in the Corregimiento of Obonuco, Municipality of Pasto (Colombia). Some chemical characteristics were evaluated, in seven different soil uses and management: T1: potato monocrop (Solanum tubersum L.), T2: Kikuyo (Pennisetum clandestinum), T3: windbreak, T4: agroforestry system acacia - aliso, T5: protein blocks, T6: forest plantation (Eucaliptus globulus Labill) and T7: native forest. The effect of the soil uses and management over the chemical properties of the soils were evaluated with the variables: pH% MO,% CO, total N, P, CIC, Ca, Mg, K, Al, Fe, Mn Cu, Zn, B and S. The data was analyzing using ANAVA, LSD and correlations of Pearson. The results showed significant differences (P <0,05) in pH contents,% MO,% CO, total N, P, CIC Ca, Mg, K, Fe and S. The higher contains of MO, CO, N, CIC, Ca, Mg and S, were obtained in the treatments T3, T4 and T7. These results allowed us to confirm the influence of MO in the fertility of soils, being MO the variable that better detects the effect of the soil use and management.
Downloads
Download data is not yet available.
References
BORGES, J.; BARRIOS, M.; SANDOVAL, E.; BASTARDO, Y.; OSWALDO, M. 2012. Características físico-químicas del suelo y su asociación con macroelementos en áreas destinadas a pastoreo en el estado Yaracuy. Bioagro. 24(2):121 - 126.
CARDONA, A.; SADEGHIAN, J. 2005. Evaluación de propiedades físicas y químicas de suelos establecidos con café bajo sombra y a plena exposición solar. Revista CENICAFE 56(4):348 - 364.
CECCON, E. 1999. Aspectos ambientales referentes al establecimiento de plantaciones de eucalipto de gran escala en áreas tropicales. Revista Interciencia. 24 (5):61 - 67.
CORPONARIÑO. CORPORACIÓN AUTÓNOMA REGIONAL DE NARIÑO. 2007. Plan de acción trienal (PAT) 2007 - 2009. En: http://corponarino.gov.co/expedientes/planeacion/informe_gestion2008/informegestionfinal2008.pdf; consulta: mayo, 2015.
CORPONARIÑO. CORPORACIÓN AUTÓNOMA REGIONAL DE NARIÑO. 2012. Plan de gestión ambiental regional. 2002 - 2012.En: http://corponarino.gov.co/expedientes/planeacion/pgar20152032/diagnosticoPGAR20152032-parte1.pdf; consulta: mayo, 2015.
CRESPO, G.; RODRÍGUEZ, I.; SÁNCHEZ, R.; FRAGA, S. 1998. Influencia de Albizia lebbeck y leucaena leucocephala en indicadores de suelo, el pasto y los animales en sistemas silvopastoriles. En: CIPAV, http://www.cipav.org.co/redagrofor/ memoria99/P-Crespo.htm; consulta: mayo, 2015.
CRUZ, A.; CRUZ, E.; AGUILERA, L.; NORMAN, H. T.; FRANCO, S.; NAVA, G.; DENDOOVEN, L.; REYES, B. G. 2012. La biomasa microbiana en suelos de montaña con diferentes usos: un estudio de laboratorio. Terra Latinoamericana. 30(3):221 - 228.
DE LAS SALAS, G. 1987. Suelos y ecosistemas forestales con énfasis en America tropical. Instituto Interamericano de Cooperación para la Agricultura. IICA, San José Costa Rica. 447p.
FASSBENDER, H. 1983. Suelos y sistemas de producción agroforestales. CATIE. Turrialba, Costa Rica. 250 p.
FASSBENDER, H. 1993. Modelos edafológicos de sistemas agroforestales. Segunda edición. CATIE. Turrialba, Costa Rica. 487 p.
FASSBENDER, H.; BORNEMISZA, E. 1994. Química de suelos con énfasis en suelos de América Tropical. IICA, Costa Rica. 418 p.
GALINDO, D. 2005. Evaluación físico - química de la materia orgánica en un suelo de tradición papera. Revista de Agronomía. 13(1):37 - 58.
GARAVITO, F. 1984. Propiedades químicas de los suelos. Instituto Geográfico Agustín Codazzi, Bogota D.C. 560 p.
GEISSERT, D.; IBÁÑEZ, A. 2000. Calidad y ambiente físico-químico de los suelos. Revista Agrociencia. 36(5):605 - 620.
GIRALDO, L. 1996. Evaluación del potencial multipropósito en dos especies de Acacia para el desarrollo de sistemas silvopastoriles en clima frío. P. 9-12. En: Memoria V. Congreso Colombiano de Ciencias Pecuarias.
IGAC. INSTITUTO GEOGRAFICO AGUSTIN CODAZZI. 2004. Estudio general de suelos y zonificación de tierras departamento de Nariño. ftp://gisweb.ciat.cgiar.org/DAPA/users/apantoja/london/Colombia/Suelos/00_shape_suelos/PROYECTO_DNP/MEMORIAS_SUELOS_OFICIALES/NARI%C3%91O/Cap%201.pdf.
MANZANARES, N.; TORREZ, R.; NAVARRO, C. 2004. Efecto de la sustitución del bosque nativo por plantaciones de pino y eucalipto sobre el horizonte orgánico en concepción (Chile). Revista ITEA. 100 (2):96 - 109.
MARTÍNEZ, H.; FUENTES, E.; ACEVEDO H. 2008. Carbono orgánico y propiedades del suelo. R. Suelo y Nutrición Vegetal. 8 (1):68 - 96.
RAMÍREZ, H. 1997. Evaluación de dos sistemas silvopastoril es integrados por Cynodon plectostachyus, Leucaena leucocephala y Prosopis juliflora. En: Seminario Internacional de Sistemas Sostenibles de Producción Agropecuaria. CIPAV. Cali.
RAZZ, A.; CLAVERO, J. 2006. Cambios en las características químicas de suelos en un banco de Leucaena leucocephala y en un monocultivo de Brachiaria brizantha. Revista de la Facultad de Ciencias Agrícolas. 15(1):326 - 331.
RONDÓN, M.; AMÉZQUITA, E.; CHÁVEZ, F. 1998. Efecto de cambios en el uso del suelo sobre los almacenamientos de carbono y flujos de gases de efecto invernadero en áreas del páramo de las ánimas, cauca, Colombia. p.133-141. En: Memorias XIV Congreso Venezolano de la ciencia del suelo.
SACCHI, G. 2002. Evaluación de los cambios en las propiedades físicas y químicas de un argiustol udico por procesos de degradación. Revista Agrociencia. 5(2):37 - 46.
SÁNCHEZ, R.; RAMOS, R.; GEISSEN, V.; MENDOZA, J. D. DE LA CRUZ, E.; SALCEDO, E.; PALMA, D. 2011. Contenido de carbono en suelos con diferentes usos agropecuarios en el trópico mexicano. Terra Latinoamericana. 29(2):211 - 219.
SEGURA, M.; CASTILLO, A.; ALVARADO, A.; BLANCO F. 2005. Extracción de nutrimentos en plantaciones de jaúl (Alnus acuminata) en la cuenca del río Virilla, Costa Rica. Revista Agronomia Costarricense. 29(2):109 - 120.
SOALLEIRO, R.; BALBOA, M.; GONZÁLEZ, A. 2004. Efecto de la silvicultura en la extracción de nutrientes largo del turno en plantaciones de tres especies de crecimiento rápido en el norte de España. Invest Agrar. 114 - 126 p.
TAMHANE. H. 1979. Suelos su química y fertilidad en zonas tropicales. Mexico, Diana. 483p.
TOKURA, Y. 1996. Árboles nativos del Valle del Cauca. Cali, Colombia: CVC. FUNAGUA. Cali. Colombia. 21 p.
UNIGARRO, A.; CARREÑO M. 2005. Métodos químicos para el análisis de suelo. Universidad de Nariño. Pasto, Colombia. 72 p.
ZAMORA, D. 2006. Cambios en algunas propiedades químicas del suelo según el uso de la tierra en el sector el Cebollal, estado Falcón, Venezuela. Revista Bioagro. 18(2):123 - 128.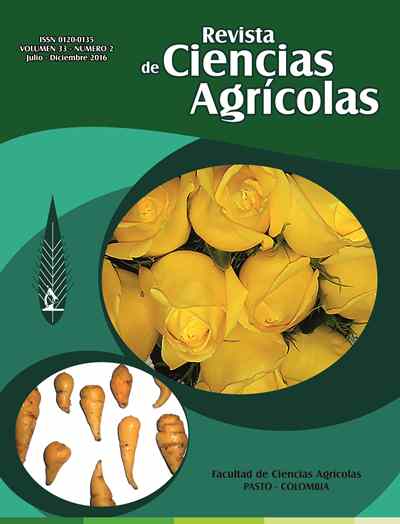 How to Cite
Arteaga J., J., Navia E., J., & Castillo, J. (2016). Behavior of chemical variables of a soil subject to different uses, department of Nariño, Colombia. Revista De Ciencias Agrícolas, 33(2), 62-75. https://doi.org/10.22267/rcia.163302.53
Section
Research and scientific and technological innovation article