characterization of the coffee farms by quality of coffee beverage and some environmental and agronomical conditions
Nathalia Orozco Cortés

Alejandro Guacas Silvestre

Tito Bacca
Keywords:
Altitude, variety, unit of soil, quality coffee
Abstract
Due to the need to generate alternatives wich let to assure the quality and differentiation about Colombian coffee, has planted the following investigation with the object the characterize the coffee farms by quality of coffee beverage and some environmental and agronomical conditions. 30 farms certificates with the seal of special coffee Just Commerce FLO (Fairtrade Labelling Organization) were evaluated, located the municipality of Pereira in a rank altitudinal between 1250 and 1800 m.a.s.l., with different units of soil and with variety coffee cultivations Colombia and Caturra. Of each farm was taken a dry parchment coffee sample that was carried to the Laboratory of analysis as coffee of the Committee of Coffee of Risaralda to determine the organoleptic characteristics as: fragrance, acidity, body, flavor, residual flavor, balance, clean cup, sweet and score of the taster. By means of an analysis of multiple correspondences was concluded that the altitude, the variety and the unit of soil of each farm studied do not they have association with the parameters of quality of the beverage of the coffee. Also it was possible to determine that in the 70% of the farms was possible to produce coffee with good sensory characteristics of the beverage.
Downloads
Download data is not yet available.
References
ARISTIZABAL, A. y DUQUE, O. 2006. Determinación de economías de escala en el proceso de beneficio del café en Colombia. Cenicafé. 57(1): 17 -30.
AVELINO, J.; BARBOZA, B.; ARAYA, J.C.; FONSECA, C.; DAVRIEUX, F.; GUY, B. y CILAS, C. 2005. Los efectos de la exposición a la vertiente, a la altitud y la producción en la calidad del café en dos localidades altitudinales de Costa Rica, Orosi y de Santa María de Dota En: La caficultura sostenible, un desafío impostergable. XXI Simposio Latinoamericano de caficultura, San Salvador, El Salvador.
BUENAVENTURA, S. y CASTAÑO, C. 2002. Influencia de la altitud en la calidad de bebida de muestras de café procedente del ecotopo 206B en Colombia. Revista Cenicafé. 53(2): 119 -131.
CORRALES, B. 2004. Manual de catación del programa de cafés Especiales de Colombia. Primera edición. Bogotá. 30 p.
FARFAN V. F.F. 2007. Cafés especiales, 233 – 254. p. En: ARCILA P., J.; FARFAN V., F.; MORENO B., A.M.; SALAZAR G., L.F.; HINCAPIE G., E. Sistemas de producción de café en Colombia. Cenicafé, Chinchiná, 309 p.
LARA-ESTRADA L.; VAAST P. 2007. Effects of altitude, shade, yield and fertilization on coffee quality (Coffea arabica L. var. Caturra) produced in agroforestry systems of the Northern Central Zones of Nicaragua. En: Second International Symposium on Multi-Strata agroforestry systems with perennial crops: Making ecosystem services countforfarmers, consumers and the environment, Turrialba, Costa Rica.
MORENO, A. 2007. Fundamentos sobre sistemas de producción, 15 - 20 p. En: ARCILA P., J.; FARFAN V., F.; MORENO B., A.M.; SALAZAR G., L.F.; HINCAPIE G., E. Sistemas de producción de café en Colombia. Cenicafé, Chinchiná, 309 p.
PUERTA, G.I. 1996. Escala para la evaluación de la bebida de café verde Coffea arabica L, proceso vía húmeda. Cenicafé. 47(4): 231 – 234.
PUERTA, G.I. 1998. Calidad en taza de las variedades de Coffea arabica L. Cultivadas en Colombia. Cenicafé 49(4): 265-278.
PUE RTA, G.I. 2000a. Calidad en taza de algunas mezclas de variedades de café de la especie Coffea arabica L. Cenicafé 51(1): 5 -19.
PUERTA, G.I. 2000b. Beneficie correcta -mente su café y conserve la calidad de la bebida. Avances técnicos Cenicafé No. 276: 1 -8.
PUERTA, G.I. 2003. Especificaciones de origen y buena calidad del café de Colombia. Avances Técnicos de Cenicafé No. 316: 1-8.
PUERTA, G.I. 2006. Buenas prácticas agrícolas para el café. Avances Técnicos Cenicafé No. 349:1-2.
PUERTA, G.I. 2008. Riesgos para la calidad y la inocuidad del café en el secado. Avances Técnicos Cenicafé No. 371: 1 -8.
ROSAS, A. J.; ESCAMILLA, E. P. y RUIZ, O.R. 2008. Relación de los nutrimentos del suelo con las características físicas y sensoriales del café orgánico. Terra Latinoame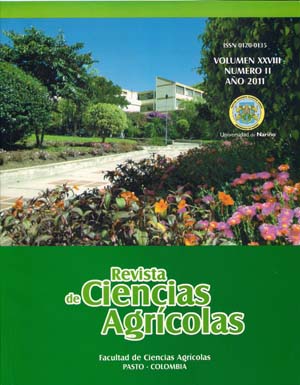 How to Cite
Orozco Cortés, N., Guacas Silvestre, A., & Bacca, T. (2011). characterization of the coffee farms by quality of coffee beverage and some environmental and agronomical conditions. Revista De Ciencias Agrícolas, 28(2), 9-17. Retrieved from https://revistas.udenar.edu.co/index.php/rfacia/article/view/10