Regeneration of tree tomato plants (Cyphomandra betacea Cav. Sendt.) induced by organogenesis from callus
José Julián Apraez M

Janio Fabián Romo D

Tulio Cesar Lagos B.
Keywords:
In vitro, hormones, growth medium, morphogenesis, Murashige and Skoog
Abstract
The aim of this study was to obtain tree tomato plants (C. betacea) in vitro, by induced organogenesis in callus. A complete randomized block design, with four treatments and four replications was used. Treatments studied were: (1) MS (check), (2) MS + 2.4D 5μM, (3) MS + 2.4D 10μM y (4) MS + 2.4 D 15μM; 13μM of kinetin were added to treatments 2, 3, and 4. The experimental unit consisted of 10 glass containers, with a capacity of 120 ml. In each container 20 mi of culture medium were added and were sown three calluses with a diameter of 5 mm. The highest percentage of regenerated plants (14,66%) was obtained with treatment MS + 2,4 D 5μM (T2), and the lowest (2,91%) with MS + 2,4D 15μM. Formation of roots, stems, leaves and regenerated plants was higher using MS + 2.4D 5μM (T2), with values of 0,52, 0,14, 0,15 and 0,05, respectively, while lower values were obtained with treatment 4, MS + 2.4 15μM, with of values 0,09, 0,04, 0,008 and 0, for the same characteristics.
Downloads
Download data is not yet available.
References
AGROCADENAS. 2008. Análisis - Estadísticas. [En línea]. 2008. Disponible en Internet: <http://www.Agronet.gov.co /Agronetweb/ AnalisisEstadisticas/tabid/73/Default.aspx>. consulta: 1 marzo de 2011.
ARREDONDO, A. 2000. Establecimiento de cadenas proliferativas y enraizamiento in-vitro de Juglansregia L. a partir de embriones. Memoria de Título. Universidad de Concepción, Facultad de Ciencias Forestales, Concepción, Chile. 55 p
BARCELO, J., NICOLAS, G., SABATER, B. y SANCHEZ, R. 1995. Fisiología Vegetal. 6ª ed. Madrid: Ediciones Pirámide S.A. 662 p.
BORNMAN, C.H. y VOGELMANN, T.C. 1984. Effect of rigidirty of gel médium on benzyladenine- induced adventitios bd formation and vitrification in-vitro in Picea abies. Physiol. Plant. 61:505-512.
BURCH, L. y McGAW, B. 1993. Fisiología y Bioquímica Vegetal. In: AZCON-BIETO, J., M. TALON. Madrid, España: McGraw-Hill. 319-325pp.
CALDERON, X. y ROTELLA, R. 1998. Establecimiento in-vitro de Beilschmiedia berteroana (Gay) Kostermans (Lauraceae). InformaciónTecnológica. 9(5): 269-275.
DALZOTO, A. y DOCAMPO, D. 1997. Micropropagación de los portainjertos de ciruelo Mariana 2624 (Prunus cerasifera x Prunus musionana) y Pixy (Prunus insistia L.) de sanidad controlada. Phyton. (60):127-135.
GEORGE, E. y SHERRINGTON, P. 1984. Plant propagation by tissue culture.1a. ed. Basingstoke, Exegetics Limited. 709p.
HAMIDAH, M., GHANI, A. y DEBERGH, P. 1997. Somatic embryogenesis and plant regeneration in Anthurium scherzerianum. Plant Cell Tissue and Organ Culture 48:189-193.
HOYOS, R. 1996. Regeneración de plantas de tomate de árbol (Cyphomandra betacea (Cav.) Sendt in-vitro vía organogénesis. En: Seminario Orientacion Estrategica de la Investigacion Agropecuaria en la Universidad Nacional de Colombia sede Medellin. Medellín, Universidad Nacional de Colombia. 50 p.
LEE, H., CRUZ, J. y GARCIA, B. 2003. Proliferación de brotes múltiples y aclimatación de anturio (Anthurium adreanum L.) Midori y Kalapana cultivadas in.vitro. Rev. Fitotec. Mex. 26(4): 301-307.
MARGARA, J. 1988. Multiplicación Vegetativa y Cultivo in-vitro. Madrid, Mundi- Prensa. 236p.
MUÑOZ, M. 2000. Multiplicación in-vitro de clones selectos de Castanea sativa Mill. Memoria de Título. Universidad de Concepción, Facultad de Ciencias Forestales, Concepción, Chile. 39 p.
MURASHIGE, T. y SKOOG, F. 1962. A revised médium for rapid growth and bioassays with tobacco tissue cultures. Physiol. Plant 15:473-497.
OBANDO, M. y JORDAN, M. 2001.Regenerative responses of Cyphomandra betacea (Cav.) Sendt. (Tamarillo) cultivated in-vitro. Acta Horticulture. (560): 429 - 432.
ONAMU, R., OBUKOSIA, S., MUSEMBI, N. y HUTCJINSON, M. 2003.Efficacy of Thidiazuron Invitro propagation of carnation shoot tips: Influence of Dose and Duration of Exposure. African Crop Science Journal. 11(2): 125-132.
POWERS, D.E. y BACKHAUS, R.A. 1989. In-vitro propagation of Agave arizonica Gentry & Weber. Plant Cell Tiss. Org. Cult. 16. 57-60 pp.
ROCA, M. y MROGINSKI, L. 1991. Cultivo de tejidos en la agricultura: Fundamentos y aplicaciones. Centro Internacional de Agricultura Tropical CIAT. Cali. 970 p.
VIETEZ, A. y VIETEZ, M. 1982. Castaneasativa plantlets proliferated from axillary buds cultivated in-vitro. Sciencia Horticulturae. 18: 343-351.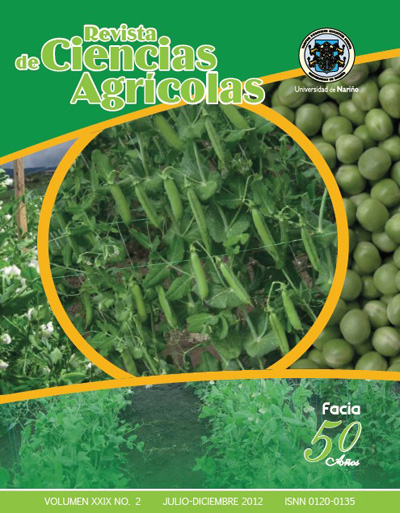 How to Cite
Apraez M, J., Romo D, J., & Lagos B., T. (2013). Regeneration of tree tomato plants (Cyphomandra betacea Cav. Sendt.) induced by organogenesis from callus. Revista De Ciencias Agrícolas, 29(2), 108-115. Retrieved from https://revistas.udenar.edu.co/index.php/rfacia/article/view/460