Diseño, implementación y evaluación de arreglos agroforestales para la costa pacifico de Nariño.
WILLIAM BALLESTEROS POSSU

Facultad de Ciencias Agrícolas, Universidad de Nariño,

HECTOR RAMIRO ORDÓÑEZ JURADO

Facultad de Ciencias Agrícolas, Universidad de Nariño

JORGE FERNANDO NAVIA ESTRADA

Facultad de Ciencias Agrícolas, Universidad de Nariño,
Keywords:
agroforestry arrangements, financial analysis, cocoa, plantain, laurel, Tumaco, Nariño.
Abstract
In the Cacagual village belonging to Mira river, municipality of Tumaco, Nariño, was designed, implemented and evaluated the agroforestry system laurel (Cordia alliodora), cocoa (Theobroma cacao) and banana (Musa sp). According to the POT (2005), the study area is located to 1°49' N and 79°46' W, with 26°C average temperature, 87% relative humidity and precipitation between 2.800 and annual 3.500 mm. The diagnosis and Design D&D methodology was used and meetings with producers and technicians of Corpoica, Cordeagropaz and Umata. With the active participation were generates and implemented mixed production systems under complete random blocks with three blocks and three treatments, the plots corresponded to an area of 1.5 ha. One year after of established the experiments, the behavior of the components to the applied treatments was good, like it is the case of cocoa and laurel with a 100% survival, these were sowed in cespedón; on the other hand the banana was 20% mortality, due to the high humidity of the soil when it was sowed. In spite of the short time of evaluation, the laurel presented significant statistical differences growth, reporting the highest values the treatment T1 (sowing distance 8 m x 4 m) with 2,03 m and the smallest value registred in the treatment T3 (sowing distance 8 m x 16 m). The variables evaluated in the banana like yield, number of fingers, weight of clusters and hijuelos for plant didn't present significant statistical differences during the first year of evaluation, what indicates that the banana plants had the same behavior in the different treatments. The establishment cost per hectare oscillated among of $6.630.000 and $6.829.000, these costs are low if we compare them with those reported by FEDECACAO (2005) in Agrocadenas, of $9.305.000. In the financial analysis for the component banana in the first year, the treatment targed had the biggest relationship cost benefit (B/C 1,56) with regard to others.
Downloads
Download data is not yet available.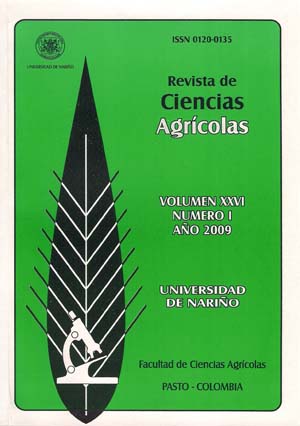 How to Cite
BALLESTEROS POSSU, W., ORDÓÑEZ JURADO, H., & NAVIA ESTRADA, J. (2009). Diseño, implementación y evaluación de arreglos agroforestales para la costa pacifico de Nariño. Revista De Ciencias Agrícolas, 26(1), 154-170. Retrieved from https://revistas.udenar.edu.co/index.php/rfacia/article/view/60
Section
Research and scientific and technological innovation article