Morphological characterization Cyphomandra betacea (Cav.) sendt collection of the University of Nariño
Rubén Valencia

Overman Torres

Carlos Benavides

Oscar Checa

Tulio César Lagos
Keywords:
Principal Components, Multiple correspondence, genotype, accession.
Abstract
Fifty introductions of the collection of tree tomato C.betacea, University of Narino, were morphologically characterized, during the period June, 2009 - December, 2010, by means of highly discriminant descriptors, under de Municipality of Pasto (Narino) in the village of Caldera Low. The place of study is located to 1900 masl, average temperature of 18°C and a rainfall of 1600mm per year. The Principal Component Analysis revealed that the first four factors accounted for 84.07% of the total variation, and the hierarchical classification identified four classes that which united to the Principal Component Analysis, presented a high contribution of the characters to the variation. Multiple correspondence analysis showed five factors with an explanation of 75.84% of the total variation of population. Characters of high contribution to conform the factors were: color of apical buds, color of nervation in both the front and the back sides of leaves, color calyx, growth habit of tree top, color of mature fruit, fruit shape, fruit size and density of the tree top. Hierarchical classification analysis for qualitative characters made possible three different groups for the characters: color of placenta and size fruit respectively.
Downloads
Download data is not yet available.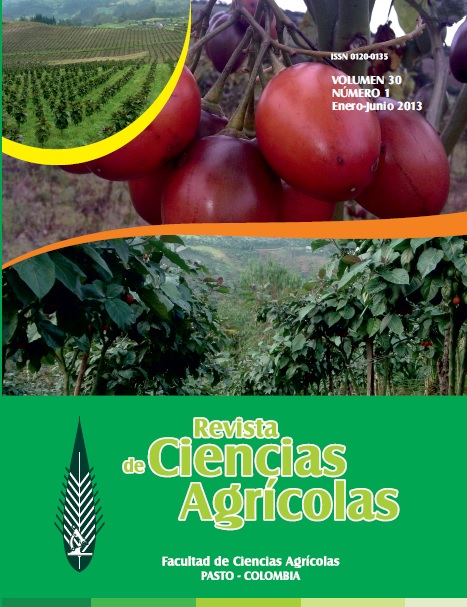 How to Cite
Valencia, R., Torres, O., Benavides, C., Checa, O., & Lagos, T. (2013). Morphological characterization Cyphomandra betacea (Cav.) sendt collection of the University of Nariño. Revista De Ciencias Agrícolas, 30(1), 12-25. Retrieved from https://revistas.udenar.edu.co/index.php/rfacia/article/view/966