International trade conditions: Challenges for less developed countries
Giovanni Reyes

Universidad del Rosario
Palabras clave:
economía internacional, comercio internacional, economías de países menos desarrollados
Resumen
Este documento discute dos aspectos importantes que son predominantes en las actuales condiciones del comercio internacional. En primer lugar una síntesis sobre los fundamentos conceptuales, esto es, elementos teóricos del comercio internacional y desarrollo. Se hace mención de las principales características y de cómo éstas influyen en la dinámica de los procesos de globalización actual. En segundo lugar se discuten aspectos medulares que deben enfrentar los países en desarrollo, en referencia a su inserción en los circuitos de la economía internacional. Una de las principales consideraciones finales es que, si bien se hace evidente que la creación de la Organización Mundial de Comercio representó un avance en las condiciones de negociación internacional, aún queda considerable margen de mejora en las circunstancias de equidad para el trato de intercambios con países menos desarrollados.
Descargas
La descarga de datos todavía no está disponible.
Visitas al resumen del artículo: 195
Referencias
BECKER, Gary (2005) Teoría Económica (México, D.F., México: Fondo de Cultura Económica).
BRAILOVSKY, V. (1998) Industrialization and Oil in Mexico. (London: Academic Press).
DAY, Richard (2004) The Divergent Dynamics of Economic Growth. (Nueva York: Cambridge University Press).
DIESING, Paul (2009) How does Social Science Work? Reflections on Practice. (Pittsburgh, Pennsylvania: University of Pittsburgh Press).
DORNBUSCH, Rudy, et. al. (2009) Macroeconomics. (New York: McGraw-Hill).
EATWELL, James, et. al. (2009) The World of Economics. (New York: W.W. Norton) p. 346.
ECHEVERRÍA, Rubén (2001) Desarrollo de las Economías Rurales de América Latina. (Washington,D.C.: Banco Interamericano de Desarrollo).
HELLINER, G. (2004) Outward orientation, import instability and African economic growth: an empirical investigation in Theory and reality in development. (London: McMillan).
HIRSCHMAN, Albert (1985) De la Economía a la Política y Más Allá (México, D.F.: México: Fondo de Cultura Económica).
HIRSCHMAN, Albert (1998) La Estrategia del Desarrollo Económico (México, D.F., México: Fondo de Cultura Económica).
JOHNSON, Harold (2004) Trade Strategy for Rich and Poor Nations. (Toronto: University of Toronto Press).
KALMONOVICH, Salomon (2011) "La Institucionalidad Minera" en El Espectador, lunes 6 de junio, pág 28.
MALLOCH, Thomas (2007) Issues in International Trade and Development Policy. (Wesport: Greenwood Press).
MOCHON, Francisco (2007) Microeconomia. (Madrid: McGraw-Hill).
MORTIMORE, M. "A new international industrial order: increased international competition in a centric world", in CEPAL (1993) Review, No. 48, August 1992, (Santiago de Chile, Chile: CEPAL).
MOSER, Carolina (2004) Encounters with Violence in Latin America: Urban Poor Perceptions. (Nueva York: Routledge).
MUKUM, John, et. al. (2003) Restarting and Sustaining Economic Growth and Development. (Burlington, Vermont: Ashgate)
MYRDAL, Gunnar (1985). Teoría Económica y Regiones Subdesarrolladas (México, D.F., México: Fondo de Cultura Económica).
MYRDAL, Gunnar (1969). Objectivity in Social Research. (Nueva York, USA: Phantheon Books). OCAMPO, José (ed.) (2005). Beyond Reforms: Structural Dynamics and Macroeconomic Vulnerability(Washington, D.C.: World Bank Publications, Latin American Development Forum).
OJIMI, V. (1979). Japan's Industrialization Strategy (Paris: OECD).
PORTES, Alejandro (2007). Las Instituciones en el Desarrollo Latinoamericano (México, D.F.,México: Siglo XXI editores).
PREBISCH, Raúl (1950). The Economic Development of Latin America and its Principal Problems (New York: United Nations).
PUIGNAU, Juan (2002). Recursos Naturales y Sostenibilidad Agrícola. (San José, Costa Rica: IICA).
RASIAH, Rajah (2009). Uneven Paths of Development. (Northampton, Massachusetts: William Pratt House).
RITTBERGER, V. (ed.) (1993). Regime Theory and International Relations (Oxford: Clarendon Press).
SINGER, Hans (1950). "The Distribution of Gains Between Borrowing and Investing Countries" in American Economic Review 40, No. 2 (mayo 1050): 473-485.
TODARO, Michael (2005). Economic Development in the Third World. (New York: Longman).
UNITED NATIONS ORGANIZATION (1992). Human Development Report 1992 (Oxford: Oxford University Press).
UNITED NATIONS, UNDP (1993). Human Development Report 1993. (Oxford: Oxford University Press).
WALTHER, Ted (1997). The world economy. (New York: John Wiley & Sons Inc.).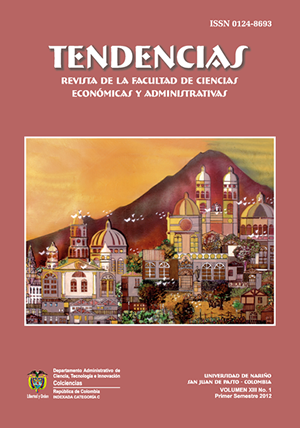 Cómo citar
Reyes, G. (2013). International trade conditions: Challenges for less developed countries. Tendencias, 13(1), 207-220. Recuperado a partir de https://revistas.udenar.edu.co/index.php/rtend/article/view/522
Aquellos autores/as que tengan publicaciones con esta revista, aceptan los términos siguientes:
Esta revista está bajo una Licencia Creative Commons Reconocimiento-NoComercial 4.0 Internacional License. Los artículos se pueden copiar, distribuir, adaptar y comunicar públicamente, siempre y cuando se reconozcan los créditos de la obra y se cite la respectiva fuente. Esta obra no puede ser utilizada con fines comerciales.
Para aumentar su visibilidad, los documentos se envían a bases de datos y sistemas de indización.
El contenido de los artículos es responsabilidad de cada autor y no compromete, de ninguna manera, a la revista o a la institución.