Evaluation of sulfur mobility in soil Vitric haplustand
Héctor Adrian Bacca

Facultad de Ciencias Agrícolas, Universidad de Nariño

Juan Andrés Narvaez

Facultad de Ciencias Agrícolas, Universidad de Nariño

Alberto Unigarro S

Universidad de Nariño
Keywords:
Volcanic ash, pH, sulfates.
Abstract
In Pasto altiplano, there are grounds derived from volcanic ash in which agricultural activities have been intensified causing degradation and loss of nutrients that originate from the organic material of the ground. In laboratory conditions, the application of elemental sulfur, dehydrated calcium sulfate, magnesium sulfate, and ammonia sulfate was tested in quantities of 0,30,60 and 120 kg.ha-1 over the mobility of the SO4" ion and the change in the pH value. 128 samples of earth were taken from a depth of 30cm with PVC cylinders, which were incubated for 60 and 120 days. Elemental sulfur addition did not act on sulfur mobility and pH. After 60 days of incubation, sulfur availability depended upon the quantity added; 120 days later, SO24 ion distribution responded to the interaction source x quantity x evaluation depth. Ammonia sulfate being added, some differences were shown in sulfur availability in depth. With the utilization of calcium and magnesium sulfate, its availability was related to the sulfur quantity. After 60 and 120 days of incubation, pH depended on the interaction source x quantity x evaluation depth. 60 days after, pH changed in terms of depth when calcium sulfate was added and it responded to the amount of sulfur added and the evaluation depth with ammonia and magnesium sulfate. 120 days later, pH changed with the calcium and magnesium sulfate quantity and it depended on the amount and evaluation depth with ammonia sulfate.
Downloads
Download data is not yet available.
References
ANDERSON, J., SCHINGOETHE, K, KALSCHEUR and HIPPEN, A. 2006. El azufre en los granos de destilería para el ganado lechero. J. Dairy Sci. 89:3133-42.
BARRERA, L. 2001. Suelos y fertilización en el cultivo de la papa. En: Seminario fertilización de cultivos. Medellín, Colombia, SCCS. Noviembre. Pp. 3155
BRADY, N. 1990. The nature and properties of soils. 10a ed. Prentice-Hall, New York, USA. 590 p.
BOHN, H., McNEAL, B. and O ́CONNOR, G. 1993. Química del suelo. México, Editorial Limusa. 370p.
BURBANO, H. 2001. El azufre en el suelo. En: Los elementos secundarios (Ca, Mg, S) y el silicio en la agricultura. Bogotá, Colombia, SCCS. Pp 24-49.
BURBANO, H. 1984. El componente bioquímico en la productividad y la fertilidad del suelo. En: Fertilidad de suelos. Diagnóstico y control. SCCS. Pp. 99 – 140.
CHAPMAN, S. 2000. Thiobacillus populations in some agricultural soils. Soil Biol. Biochem. 22:479-482.
CORPONARIÑO. 2004. Actualización del diagnóstico físico-biótico y socioeconómico y formulación del plan de ordenamiento y manejo integral del río Bobo en el departamento de Nariño. Pasto. 120 p.
DENG, S., and DICK, R. 1990. Sulfur oxidation and Rhodanese activity in soils. Soil Sci. 150:552-560
ESPTEIN, E and BLOOM, A. 2004. Mineral nutrition of plants: Principles and perspectives. 2. Ed. Sunderland, Sinaur Associates. Pp. 44-45.
GONZÁLEZ, H. 2003. Disponibilidad del azufre en algunos suelos de la zona cafetera colombiana y su relación con la fertilización. Tesis Ingeniero Agrónomo. Universidad de Caldas, Facultad de Ciencias Agropecuarias, Manizales. 79 p.
GUERRERO, R. 2002. La fertilización del cultivo de la papa en Colombia. Bogotá, Monómeros Colombo-Venezolanos, Bogotá. 26 p.
HANEKLAUS, S., HAGEL, I., PAULSEN, H. and SCHNUG, E. 2007. Objectives of plant nutrition research in organic farming. Landbauforsch. Volk. 52: 61-68
INSTITUTO GEOGRÁFICO AGUSTÍN CODAZZI (IGAC). 2004. Estudio general de suelos y zonificación de tierras, departamento de Nariño. Bogotá, IGAC. CDR.
INSUASTY, L., BURBANO, H. y MENJIVAR, J. 2008. Movilidad del cadmio en suelos cultivados con papa en Nariño, Colombia. Acta Agronómica (Palmira) 57 (1): 51 – 54.
JANSEN, H. and BETTANY, J. 1986. Release of available sulphur from fertilizers. Can J. Soil Sci. 66. 91 – 103.
JANZEN, H, and ELLER, B. 2001. Sulfur dynamics in cultivated, temperate agroecosystems. In: Douglas, G; Maynard, D. (Eds). Sulfur in the environment. New York, Marcel Dekker. Pp 11-44.
JARAMILLO; D. 2002. Introducción a la ciencia del suelo. Universidad Nacional de Colombia, sede Medellín.613 p.
MIYAMOTO, S. 2000. Use of acids and acidulants on Alkali soils and water. Pp. 217-255. In A. Wallace and R.E. Terry (eds.) Handbook of soil conditioners substances that enhance the physical properties of soil. Part III. Mineral soil conditioners. Marcel Dekker, New York, USA.
MIYAMOTO, S. 1998. Use of acids and acidulants on Alkali soils and water. p. 217-255. In A. Wallace and R.E. Terry (eds.) Handbook of soil conditioners substances that enhance the physical properties of soil. Part III. Mineral soil conditioners. Marcel Dekker, New York, USA.
OLIVERIO, G., SEGOVIA, F. y LÓPEZ, G. 2001. Fertilizantes para una Argentina de 100 millones de toneladas". Foundation "Producir Conservando". Buenos Aires, Argentina. Fertilizar manual. 48 p.
PORTA, J. LÓPEZ-ACEVEDO, M. y ROQUERO, C. 2003. Edafología para la agricultura y el medio ambiente. Ed. Mundi Prensa, Madrid, España. 807 p.
SAGGAR, S., and BOLAN, N. 2003.Gaseous emissions of nitrogen from grazed pastures: processes, measurements and modeling, environmental implications, and mitigation. Advances in Agronomy 84, 37-102
SALGADO, L. 1996. Conceptos generales sobre salinidad. Boletín de Extensión N° 41.. Universidad de Concepción, Chillán, Chile. pp. 1-43.
SAMPAIO, E.; FAQUIN, V.; e GONTIJ, P. 2000. Relaçoes entre teores foliares de nutrientes e produçao do cafeeiro (Coffea arabica L) sumetido a doses de calcario e gesso. Ciencia e Agrotecnologia, Lavras, 23 (4): 857-864.
TAN, K. 1993. Principles of soil chemistry. 2a ed. Marcel Dekker, New York, USA. 210 p.
TIBAQUIRÁ, H. 2000. Determinación de los niveles de azufre disponible en los suelos de las subestaciones experimentales Maracay y Líbano. Chinchiná, Cenicafé, 39 p.
TISDALE, L., HAVLIN, L.; BEATON, D. and NELSON, L. 1993. Soil fertility and fertilizers. Sulfur, Calcium and Magnesium. 6. Ed. New Jersey, Prentice Hall, Pp 217-244.
UNIGARRO A. y CARREÑO M. 2005. Métodos químicos para el análisis de suelos. San Juan de Pasto, Universidad de Nariño. 72 p.
WILLIAMS, P. and HAYNES, R. 1992. Cycling of P and S through the soil plant animal system under intensively grazed grass – clover pastures. Vol 4 pp. 276 – 281. International Congress of Soil Science, Kyoto, Japan.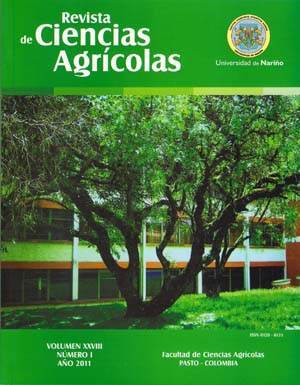 How to Cite
Bacca, H., Narvaez, J., & Unigarro S, A. (2011). Evaluation of sulfur mobility in soil Vitric haplustand. Revista De Ciencias Agrícolas, 28(1), 107-118. Retrieved from http://revistas.udenar.edu.co/index.php/rfacia/article/view/35
Section
Research and scientific and technological innovation article