Present fatty acid identification in oil extracted of seeds of soursop (Annona muricata)
Andrés Felipe Cerón C

Universidad de Nariño. Facultad Ingeniería Agroindustrial.

Oswaldo Osorio M

Universidad de Nariño. Facultad ingeniería Agroindustrial.

Andrés Hurtado B

Universidad de Nariño. Facultad de Ingeniería Agroindustrial.
Keywords:
Extraction, reliable, yield, chromatography, composition
Abstract
The objective of the present study was to determine the yield in oil and the present fatty acids in the oil obtained from seeds of soursop (Annona muricata), provided by the company (INPADEMA) in the municipality of Pasto (Nariño), the extraction I carry out by means of the Soxhlet Extractor using like reliable ethylic ether of boiling point 40-60 ºC, to identify present fatty acids use gas chromatography GC-FID, obtained a yield of 30,59% in oil, as far as the fatty acid composition was: palmitic 29,60%; stearic 5,89%; oleic 33,47%; linoleic 27,77% and linolénico 3,28%. It was determined that 35,49 % of the fatty acids are saturated and 64,51% are mostly unsaturated and may be of great interest in the different industry.
Downloads
Download data is not yet available.
References
ÁLVAREZ, E., OSPINA, C., MEJÍA, J., LLANO, G., 2004. Caracterización morfológica, patogénica y genética del agente causal de la antracnosis (colletotrichumgloeosporioides) en guanábana (Annonamuricata) en el valle del cauca. Fitopatología Colombiana. Vol. 28. No. 1. p. 1-8
AMAYA, L.; DIAZ, F.; GARCÍA, N.; MONCADA, M.; GUERRERO, G. 2007. Obtención del aceite de las semillas de Luffacylindrica y evaluación de su potencial uso en la industria cosmética. Scientia et Technica Año XIII, 33. p. 287-289.
BADUI, S. 1999. Química de los alimentos, 3ra ed., Editorial Adisson wesley Logman de México S.A. de C.V., México D.F., Mexico. 730p.
BELEN, D., EURIS, S., GARCIA, D., MOREN O, M., LINARES, O. 2004.Características fisicoquímicas y composición en ácidos grasos del aceite extraído de semillas de tomate de árbol (Cyphomandra betacea Sendt) variedades roja y amarilla. Grasa y Aceites. Vol. 55. Fasc. 4. p. 428-433.
BENAIGES, A. 2008. Aceite de rosa mosqueta: composición y aplicaciones dermocosméticas. Offarm. Vol. 27. Num 6. p. 94-97.
BERNAL, I. 1998. Análisis de Alimentos., 3ra. ed., Editora Guadalupe Ltda., Santa Fe de Bogotá. 48 p.
BOUCHER F. 1999. En: IICA-PRODAR. Congreso nacional de ciencias y tecnología de alimentos. Lima: Centro Regional Andino, 16 p. Congreso Nacional de Ciencias y Tecnología de Alimentos.1999-05-11/1999-05-14, (Santa Fe de Bogotá, Colombia).
DRAELOS, Z. 2006. Cosmeceuticos: Serie dermatologia estética. Elsevier España. 238p.
GALGANI, E. 2004. Evaluación de la situación de aci- dos grasos esenciales y derivados de cadena larga en la dieta de lactantes menores de un año. Rev. Chil. Nutr. Vol. 21, Suplemento N° 1. p. 154-160
GARCÍA, D., VILORIA, A., BELÉN, D., MORENO, M. 2003. Características físicoquímicas y composi- ción de ácidos grasos del aceite crudo extraído de residuos de mora (Rubus glaucus Benth). Grasas y Aceites. Vol. 54. Fasc. 4. p. 259-263.
JURADO, J.; MUÑOS, V. 2009. Caracterización del aceite de las semillas de solanum quitoense variedad la selva y evaluación de su actividad antioxidante. Pereira. Tesis de grado. Universidad Tecnológica de Pereira. Facultad de Tecnología. Escuela de Química. 28p.
KHAYAT, C.; CANDAU, D. 1994. Cosmetic water emulsion containing at least one vegetable oil.Paten- te de Invención. ES 6284257. KIRITSAKIS, A. K. 1992. El Aceite de Oliva. A. Madrid Vicente Ediciones, 2ª Ed. Madrid. 306p.
LESS, R. 1988. Análisis de los Alimentos., 2ª ed., Ed. Acribia., Madrid. 287p.
MARTINI, M. 2005. Introducción a la dermofarmacia y a la cosmetología., Ed, Acribia S.A., Zaragoza (España). p.300.
MEZA, N. y BAUTISTA, D. 2004. Efecto de remojo y escarificación sobre la germinación de semillas y emergencia de plántulas en guanábana. Agronomía Trop., vol.54, No.3. p. 331-342.
MORENO, J., BUENO, J., NAVAS, J., Y CAMACHO, F. 1990. Tratamiento de las úlceras cutáneas con aceite de rosa mosqueta. MedCut ILA. XVIII. p. 63-66.
OCAMPO, D., BETANCUR, L., ORTIZ, A., OCAMPO, R. 2007. Estudio cromatográfico comparativo de los ácidos grasos presentes en semilla de Annonacherimolioides y Annonamuricata L.: Vector. Vol. 2. (Ene – Dic. 2007). p. 103 – 112.
ONIMAWO, IA. 2002. Proximate composition and selected physicochemical properties of the seed pulp and oil of sour sop (AnnonaMuricataL.). Plant Foods for Human Nutrition 57. p. 165-171.
ORTUÑO, M. 2006. Manual práctico de aceites esenciales, aromas y perfumes. España. Ed. Aiyana, p.276
SOLIS, J., AMADOR, C., HERNANDEZ, M., DU- RAN, M. 2010. Caracterización fisicoquímica y comportamiento térmico del aceite de "almendra" de guanábana (Annona muricata, L). Grasa y Aceites. Vol. 61. (1). p. 58-66.
STROSHINE, R y HAMANN, D. 1997. Physical properties of agricultura materials and food pro- ducts, Richard Stroshine Publisher, W. Lafayette, Indiana. Available at Grade A Notes, 22 E. 17th Ave, Columbus.
VALENZUELA A.; MORGADO, N. 2005. Las grasas y aceites en la nutrición humana: algo de su historia. Rev. Chil. Nutr., Santiago, v. 32, n. 2.
VALENZUELA, A.; NIETO, S. 2003. Ácidos grasos omega-6 y omega-3 en la nutrición perinatal: su importancia en el desarrollo del sistema nervioso y visual. Rev. chil. pediatr., Santiago, v. 74, n. 2.
YAMARTE, M., MARÍN, M., BAUTISTA, D., AVI- LÁN, L. 2006. Características del crecimiento de las ramas del guanábano (Annona muricata L.) bajo las condiciones de un bosque muy seco tropical. Rev. Fac. Agron. CaracasVol.23 No. 1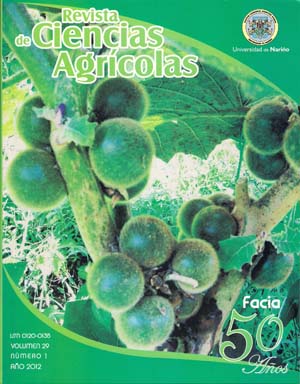 How to Cite
Cerón C, A., Osorio M, O., & Hurtado B, A. (2012). Present fatty acid identification in oil extracted of seeds of soursop (Annona muricata). Revista De Ciencias Agrícolas, 29(1), 81-87. Retrieved from http://revistas.udenar.edu.co/index.php/rfacia/article/view/370
Section
Research and scientific and technological innovation article