Evaluation of improved genotypes of black bean Phaseolus vulgaris in Barinas and Monagas, Venezuela
Keywords:
Black bean, varieties, localities, yields, economic effect.
Abstract
The research was developed at the La Alborada farm (Mamon Mamonal sector, municipality of Rojas, state of Barinas) and La Ceibafarm (Aparicio sector, municipality of Piar, state of Monagas) on Inceptisols soils and Entisols, respectively, during dry season fromNovember, 2011 to February, 2012.The aim of this investigation was to evaluate the agro-productive response of seven black bean genotypes: SA 029, line 13, Minita, Balina, Sesentera, Silvinera, and the Tacarigua commercial variety. A bifactorial randomized blocks design was used, the factors were the locality and the genotypes, with seven treatments and four replicas, distributed in 28 plots with a total experiment area of 554.8 m2. The sowing area was of 0.60 x 0.07 m for a total of 13200 plants. Plant height (cm), number of pods per plant, number of seeds per pod, weight of 100 seeds (g), and yield (t.ha-1) were evaluated. Yields in the state of Barinas were higher for the Balina and Tacarigua varieties, with 1.10 (t.ha-1) and 1.06 t.ha, respectively. In the state of Monagas, yields were higher for Line 13 variety with 1.92 t.ha-1, followed by Tacarigua with 1.68 t.ha-1, and Silvinera with 1.65 t.ha-1.The economic effect for all varieties per locality and between both localities was satisfactory.
Downloads
Download data is not yet available.
References
BARRIOS, A.; ORTEGA S. 1968. Resultados de ensayos de fertilización en caraota (Phaseolus vulgaris L.). Agronomía Tropical. 20(5):355 - 369.
BASTIDAS R, G.; CAMACHO. L. 1969. Competencia entre plantas y su efecto en el rendimiento y otras características del fríjol "caraota" (Phaseolus vulgaris L.). Acta Agronómica. 19(2):69 - 88.
BASTIDAS, G. 1974. Fríjol y caraota, producción, variedades y uso. ICA Informa. Santafé de Bogotá, Colombia. 9(12):3 - 06.
BENACCHIO, S. 1982. Algunas exigencias agroecológicas en 58 especies de cultivo con potencial de producción en el trópico americano - un compendio. FONAIAP. Maracay. 1era Ed. CROMOTIP Caracas - Venezuela. 202 p.
CENTRO INTERNACIONAL DE AGRICULTURA TROPICAL (CIAT). 1984. Morfología de la planta de fríjol común. (Phaseolus vulagaris L.). Guía de estudio. 2ª Edición. Cali, Colombia. 49 p.
DEBOUCK, D. G.; R. HIDALGO.1985. Morfología de la planta de fríjol común. 16 - 24 p. En: Marcelino L., Fernández F. y Schoonhoven. Fríjol: Investigación y Producción. CIAT.
EXPÓSITO, R. P.; GARCÍA, B. N. 2010. Comportamiento productivo de cultivares de fríjol negro (Phaseolus vulgaris L.) en la cooperativa de créditos y servicios "José Manuel Rodríguez" del municipio Jesús Menéndez. En: http://www.eumed.net/cursecon/ecolat/cu/2011/epgb.htm; consulta: febrero, 2013.
FIGUEROA, N.; WARNOCK, R. 2001. Estudio del crecimiento y desarrollo de la caraota (Phaseolus vulgaris L.) bajo diferentes densidades de población. III: Rendimiento y sus componentes. Revista de la Facultad de Agronomía. 27:105 - 117.
INFOSTAT. 2002. Infostat versión 1.1 Manual del ususario. Grupo Infostat, FCA. Universidad Nacional de Córdoba. Primera Edición. Ed. Brujas. 61 - 90p.
INSTITUTO NACIONAL DE INNOVACIÓN AGRARIA (INIA). 2013. Red Agrometeorológica. Ministerio del Poder Popular para la Agricultura y Tierra. Instituto Nacional de Investigaciones Agrícolas de Venezuela. En: http://agrometeorologia.inia.gob.ve/index.php?option=com_docman&task=cat_view&gid=158&Itemid=31.1p; consulta: febrero, 2013.
INSTITUTO NICARAGUENSE DE TECNOLOGÍA AGROPECUARIA (INTA). 2004. Efecto de la aplicación de nitrógeno, fósforo y potasio para la producción de variedades de fríjol negro. INTA. Informe Anual Fríjol.
ISMAEL, S. N.; WILLIAMS, H. M.; REYES, W. W.; CORDÓN, E. 2011. Rendimiento de dos variedades mejoradas de fríjol, sembrados al voleo y al espeque, en Moss Pam, Waspam, rio Coco. Ciencia e interculturalidad. 9(2):112 - 127.
LOZADA, C.; S. ORTEGA; N. SÁNCHEZ. 1983. Comportamiento de 12 líneas de caraota (Phaseolus vulgaris L.) en Cubiro, estado Lara. Agronomía Tropical. 33(1-6):1 - 81.
MORROS, M. E. 2001. Cultivo de la caraota con énfasis en el estado Lara. Maracay, Venezuela. Instituto Nacional de Investigaciones Agrícolas. Centro de Investigaciones Agropecuarias del Estado Lara. (Serie D No. 2). 74 p.
NAJUL, C.; ANZALONE, A. 2006. Control de maleza con cobertura vegetal en el cultivo de caraota negra (Phaseolus vulgaris L.). Bioagro. 18(2):75 - 82.
ORGANIZACIÓN DE LAS NACIONES UNIDAS PARA LA ALIMENTACIÓN Y LA AGRÍCULTURA (FAO). 1980. Metodología de valoración económica. En: http://www.fao.org/docrep/003/v8490s/v8490s09.ht.1p.; consulta: marzo, 2013.
ORTEGA, S.; BARRIOS, A. 2002. 'Tacarigua': Nueva variedad de caraota (Phaseolus vulgaris L.) Agronomía Tropical. 22(4):435 - 438
RODRÍGUEZ, E.; GARCÍA, R. DE.; GONZÁLEZ, F. 1995. Poroto (Phaseolus vulgaris L.). Guía técnica para su cultivo. Ciudad de Panamá PROFIJOL. 27 p.
SCHARGEL, R. 1972. Características y génesis de una Cronosecuencia de suelos desarrollada sobre depósitos aluviales entre los ríos Boconó y Masparro, Estado Barinas. Agronomía Tropical. 22(4):345 - 373.
SENASEM. 2010. Protocolo de evaluación de cultivares de leguminosas caraota (Phaseolus vulgaris L.) y fríjol (Vigna sp.) con fines de elegibilidad a certificación. 6 p.
SINGH. 2001. Broadening the genetic base of common beans cultivars: A review. Crop Science. 4:1659 - 1675.
SNEDECOR, G. W.; COCHRAN, W. G.; FULLER, J. R. 1984. Métodos estadísticos. Continental. México. 703 p.
ZINCK, A.; URRIOLA, P. L. 1971. Estudio edafológico. Valle Guarapiche. Estado Monagas. Ministerio de Obras Públicas (MOP). Barcelona, Venezuela.
VALDERRAMA, Y. N.; NÚÑEZ, C.; DUARTE, A.1997. Evaluación de 26 genotipos de fríjol caraota (Phaseolus vulgaris L.) en la zona de Vega del Río Arauca. Agronomía Colombiana. 14(2):127 - 137.
VOYSEST, O. 2000. Mejoramiento genético del fríjol (Phaseolus vulgaris L.): legado de variedades de América Latina 1930-1999. CIAT. Cali, Colombia. 195 p.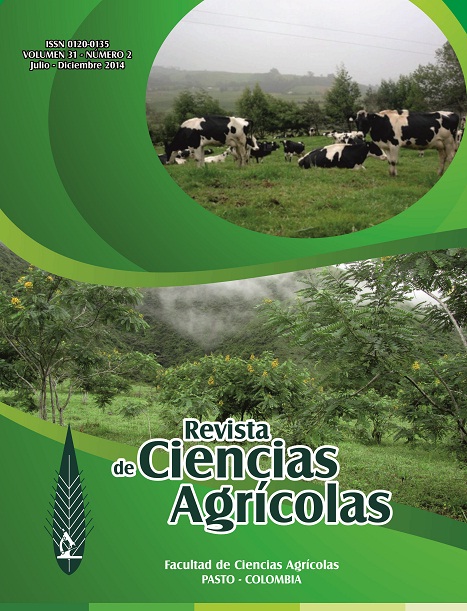 How to Cite
A., Águeda D., Lambert G., T., & Velázquez F., R. (2014). Evaluation of improved genotypes of black bean Phaseolus vulgaris in Barinas and Monagas, Venezuela. Revista De Ciencias Agrícolas, 31(2), 63–75. https://doi.org/10.22267/rcia.143102.32