Effect of five tillage systems on soil erosion of a haplustand vitric soil sown with potato (Solanum tuberosum L.)
Brian Pablo Cadena

David Egas B.

Hugo Ruiz E.

Jairo Mosquera G.

Orlando Benavides.
Keywords:
Microreliefmeter, hillside, andic soil, physical properties, tillage
Abstract
Soil erosion and loss of physical and chemical attributes have influence on the instability of soil resource in hillside areas. This research project was conducted in the experimental farm Botana, University of Nariño, located at 2870 masl, with the purpose of evaluating the effect of five tillage systems on the loss of soil and the changes of some physical and chemical properties. The tillage systems were: LC, conventional tillage for slope; LCC, conventional tillage along contour lines; LB, conventional tillage with oxen, along contour lines; LBR, reduced tillage with oxen along contour lines and LG, guachado tillage. Tillage systems were used as treatments in a complete randomized block design with three replications; soil movement was determined by the microrelievemeter. Results showed that systems LG, LB and LBR with average values of 6,27 cm, 5,88 cm and 5,87 cm, respectively, were lower regarding to soil removal; respect to aggregate stability, WMD values ranked from 1,68 mm and 1,44 mm for LC and LBR systems, respectively, corresponding to a moderately stable ranking. Finally, it was observed that penetrability ranked from extreme values of 4,34 Mpa and 10% moisture, in meadowlands to low values of 1,49 Mpa for LBR and 1,47 Mpa for LG with 6% of moisture, in the time after harvest; with the other systems no significant changes were observed. The season had effect on penetrability that increased with soli depth before and after tillage in conventional system, with more evidence in guachado system.
Downloads
Download data is not yet available.
Visits to the article summary page: 342
References
ALVAREZ, A. 1975. Evaluación de un sistema de drenaje a nivel parcelario en el municipio de Pasto, Colombia. Tesis Ing. Agr. Pasto. Universidad de Nariño, Facultad de Ciencias Agrícolas.80 p.
AMEZQUITA, E. 2000. Diseño, construcción y uso de un microrelievimetro para evaluar la dinámica de la erosión en áreas de ladera. Boletín informativo 2000. p. 13-20.
AMEZQUITA, E. 1996. Diseño y Construcción de un Microrelievimetro para Evaluar la Dinámica de la Erosión en zonas de Ladera. CIAT, Cali, Colombia. 10 p.
ANDRADE, C. 2000. Pesquisador Embrapa Milho e Sorgo. Sete Lagoas, MG, Brasil, 122p.
CENICAFE. 1982. FEDERACION NACIONAL DE CAFETEROS DE COLOMBIA (FEDERACAFE). CENTRO NACIONAL DE INVESTIGACIONES DE CAFÉ CHINCHINA (Colombia). Cuarenta años de investigación de CENICAFE. Suelos vol 1. Chinchiná (Colombia).74 p.
CEVIPAPA. 2005. Anuario estadístico 2010. En línea. www.cevipapa.org.
CORPOICA.2002. En linea: http://www.corpoica.org.co/SitioWeb/Archivos/Publicaciones.
DESCANCE, M., DIAZ, D. 2005 Tesis ingeniería agronómica. Universidad de Nariño. Facultad de ciencias agrícolas. Pasto, Nariño. p.37.
FLOREZ, A. 1985. Mecanización del cultivo de papa en ladera, Revista ICA, Vol 20. (Octubre- Diciembre) 1985. 271p.
FORSYTHE, W. 1980. Física de suelos. Manual de laboratorio. IICA. San José Costa Rica. p. 10-211.
GAVANDE, S. 1987. Física de suelos, principios y aplicaciones. México. Limusa-wiley. 345 p.
HERRERA, P. 1989. Efecto sobre labranza en algunas propiedades físicas de suelo. Bogotá. 1989. p. 55-58.
INGARAMO, O., PAZ, A. y DUGO, M. 2003. Evaluación de la densidad aparente en los diferentes sistemas de laboreos del suelo en el NO de la península ibérica. Inga Univerisdad Nacional Del Nordeste, comunicaciones científicas y tecnológicas. España. Disponible en: http://www.unne.edu.ar/Web/cyt/cyt/2003/comunicaciones/05-Agrarias/A-032.pdf. 1p; Consulta: 15 de Agosto de 2011.
LAL, R.; STEWART, B., A. 1995. Soil management, Experimental Basis for Sustainability and Environmental Quality. CRC Press, Inc. 555p.
LEGARDA, L. 1998. Las propiedades físicas y la productividad del suelo. En: Curso sobre diagnóstico, fertilidad e interpretación de análisis de suelos. Pasto. Colombia. SCCS, 81-90 p.
MARTINEZ, J. 2005. Efecto de los sistemas de labranza sobre algunas propiedades hidrofísicas en un endoaquept del sistema de producción maíz – algodón en el Valle medio del Sinú – Colombia. Corpoica. http/www.corpoica.org.co/EnproductoGr/xmlInfo. do?nro id grupo=206512RD97JV7&seq. 2 p.
MC, GREGOR. K.C. 1975. Erosión control with notill cropping practices. p. 45-50.
MONTENEGRO, G. y MALAGÓN, D. 1990. Propiedades físicas de los suelos. Bogotá. Colombia. IGAC 1990. p. 22-28.
OLMOS, E. y MONTENEGRO, H. 1987. Inventario de los problemas de la erosión y degradación de los suelos de Colombia. En: Resúmenes del Congreso Colombiano de la Ciencia del Suelo, 4 y Coloquio "La degradación de los suelos en Colombia", Neiva (Colombia), 18-21 de agosto de 1987, Sociedad Colombiana de la Ciencia Suelo. p.23.
RIVERA, J. 2003. La labranza de los suelos en el trópico: ¿Necesidad o costumbre? En: Curso Nacional. Hacia un nuevo enfoque de producción y manejo de los recursos forrajeros tropicales en la empresa ganadera. CORPOICA. Ecorregión Andina. Octubre 2 y 3 de 2003
RODRÍGUEZ, M. 1984. Influencia de la reducción de operaciones de labranza sobre algunas propiedades físicas del suelo, erosión y escorrentía. Tesis M.Sc. Bogotá. Universidad Nacional, programa de estudios para graduados de Ciencias Agrícolas. p. 15-20.
RODRIGUEZ, M. 1998. Efecto de la labranza sobre las propiedades físicas y químicas del suelo y el rendimiento de maíz en los llanos altos del estado Monagas, Agron. Trop. 48 (2). p. 157-174.
RUIZ, H. 2009. Sistemas de labranza en suelos de ladera, como alternativa de reducción de la erosión y el mejoramiento de la productividad del cultivo de papa. Proyecto de
YEPEZ, B. 2002. Siembra de papa en guachado. En: Plegable divulgativo No.7, CORPOICA, Pasto Colombia. p. 1-6.
YODER, R. E., 1936. A direct method of aggregate analysis of soil and a study of the physical nature of erosion losses. J. Am. Soc. Agron. 28: 291-294.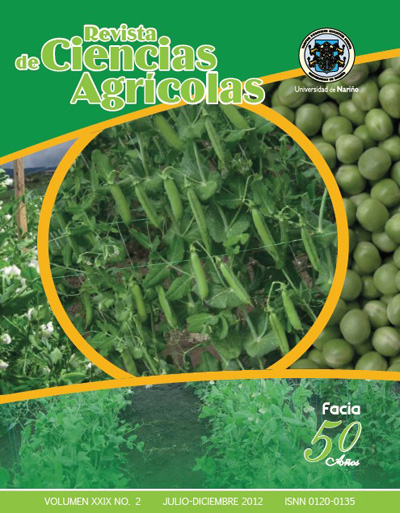 How to Cite
Cadena, B., Egas B., D., Ruiz E., H., Mosquera G., J., & Benavides., O. (2013). Effect of five tillage systems on soil erosion of a haplustand vitric soil sown with potato (Solanum tuberosum L.). Revista De Ciencias Agrícolas, 29(2), 116-128. Retrieved from https://revistas.udenar.edu.co/index.php/rfacia/article/view/461