Detección de la alteración del metabolismo glucídico y resistencia a la insulina en una muestra piloto infantil: Aproximación metabolómica
Palabras clave:
Diabetes mellitus, resistencia a la insulina, metabolómica, metabolismo de los hidratos de carbono, niño
Resumen
Introducción: La metabolómica permite estudiar la resistencia a insulina (RI), un factor de riesgo de pre-diabetes y diabetes. Quantose IRTM es el único test que mide la RI mediante la abrazadera hiperinsulinémica euglicémica. Objetivo: Se comprobó la eficacia de un test metabolómico en la detección de marcadores de RI en población infantil. Materiales y Métodos: Once niños, de edad 8,54±3,53 años y con factores de riesgo de diabetes, fueron reclutados del Hospital El Escorial. Se estableció como criterio diagnóstico para la prediabetes el estándar de la Asociación Americana de Diabetes (ADA) (HbA1C 5,7-6,4% y glucosa basal 100-125mg/dl). Se compararon las analíticas de sangre con la prueba de Quantose IRTM, estudiando el perfil del metaboloma relacionado con la RI (ácido alfa-hidroxibutírico, ácido oleico, linoleo-glicerofosfocolina e insulina). Su análisis generó una puntuación Quantose© (escala 0-100), siendo >63 RI. Resultados: Ningún sujeto cumplió el criterio de la ADA para prediabetes: HbA1C fue 5,3±0,18 % y glucosa 86,6±5,6 mg/dl. Por el contrario, 10 sujetos cumplieron criterios del test Quantose IRTM para la RI (score: 78,09 ± 9,24 (>63)). Conclusiones: El test Quantose IRTM mide el porcentaje de hemoglobina unida a glucosa dentro de los glóbulos rojos. Permite prever el riesgo de diabetes, y tomar medidas preventivas.
Descargas
La descarga de datos todavía no está disponible.
Referencias
Manzur MdelR, Rodriguez S, Yañez RM, Ortuño M, García S, Fernandez N, et al. Síndrome metabólico, factores de riesgo en niños y adolescentes con sobrepeso. Gac méd Boliv [Internet]. 2016;39(2):94-8. Available from: http://www.scielo.org.bo/scielo.php?script=sci_arttext&pid=S1012-29662016000200008
van der Aa MP, Fazeli Farsani S, Knibbe CAJ, de Boer A, van der Vorst MMJ. Population-Based Studies on the Epidemiology of Insulin Resistance in Children. J Diabetes Res. 2015;2015:1-9.
Fernando Carrasco N, José Eduardo Galgani F, Marcela Reyes J. Síndrome de resistencia a la insulina. Estudio y manejo. Rev Médica Clínica Las Condes. 2015;24(5):827-37.
Tokarz VL, MacDonald PE, Klip A. The cell biology of systemic insulin function. J Cell Biol. 2018;217(7):1-17.
Galgani JE, Ravussin E. Postprandial whole-body glycolysis is similar in insulin-resistant and insulin-sensitive non-diabetic humans. Diabetologia. 2012;55(3):737-42.
Jeffery SC, Hosking J, Jeffery AN, Murphy MJ, Voss LD, Wilkin TJ. Gender differences in insulin resistance during adolescence: A longitudinal study (EarlyBird) [Internet]. Vol. 59, Diabetologia. 2016. p. S547. Available from: http://ovidsp.ovid.com/ovidweb.cgi?T=JS&PAGE=reference&D=emed18b&NEWS=N&AN=612314267
Galera Martínez R, García García E, Vázquez López MÁ, Ortiz Pérez M, López Ruzafa E, Martín González M, et al. Factores asociados a insulinemia en población general adolescente. Nutr Hosp. 2013;28(5):1610-4.
Bajaj M, DeFronzo RA. Metabolic and molecular basis of insulin resistance. J Nucl Cardiol. 2003;10(3):311–23.
Weickert MO. What dietary modification best improves insulin sensitivity and why? Clin Endocrinol (Oxf). 2012;77(4):508-12.
Calero Bernal ML, Varela Aguilar JM. Diabetes tipo 2 infantojuvenil. Rev Clínica Española. 2018;218(7):372-81.
Manrique-Hurtado H, Aro-Guardia P, Pinto-Valdivia M. Diabetes tipo 2 en niños. Serie de casos. Rev Medica Hered [Internet]. 2016;26(1):5-9. Available from: http://www.scielo.org.pe/pdf/rmh/v26n1/a02v26n1.pdf
Gómez-Ambrosi J, Rodríguez A, Catalán V, Frühbeck G. Papel del tejido adiposo en la inflamación asociada a la obesidad. Rev Esp Obes. 2008;6(5):264-79.
Kao KT, Sabin MA. Type 2 diabetes mellitus in children and adolescents. Aust Fam Physician. 2016;45(6):401-6.
Arisaka O, Sairenchi T, Ichikawa G, Koyama S. Increase of body mass index (BMI) from 1.5 to 3 years of age augments the degree of insulin resistance corresponding to BMI at 12 years of age. J Pediatr Endocrinol Metab. 2017;30(4):455-7.
Rosas-Sumano AB, Rodal-Canales FJ, Barrientos Pérez M, Cárdenas-Morales BE, Pérez-Campos Mayoral L, Pérez-Campos E. Hiperinsulinemia y resistencia insulínica en niños de dos escuelas públicas de Oaxaca, México. Rev Med Chil. 2016;144(8):1020-8.
International Diabetes Federation (IDF). IDF Diabetes Atlas Eighth edition 2017. In: Internatinal Diabetes Federation. 2017. p. 16-7.
Lehmann R. Diabetes subphenotypes and metabolomics: The key to discovering laboratory markers for personalized medicine? Clin Chem. 2013;59(9):1294-6.
Brown RJ, Yanovski JA. Estimation of insulin sensitivity in children: Methods, measures and controversies. Pediatr Diabetes. 2014;15(3):151-61.
Lentferink YE, Elst MAJ, Knibbe CAJ, van der Vorst MMJ. Predictors of Insulin Resistance in Children versus Adolescents with Obesity. J Obes [Internet]. 2017;2017:3793868. Available from: https://www.ncbi.nlm.nih.gov/pmc/articles/PMC5742469/
Katz A, Nambi SS, Mather K, Baron AD, Follmann DA, Sullivan G, et al. Quantitative insulin sensitivity check index: A simple, accurate method for assessing insulin sensitivity in humans. J Clin Endocrinol Metab. 2000;85(7):2402-10.
Gutch M, Kumar S, Razi S, Gupta K, Gupta A. Assessment of insulin sensitivity/resistance. Indian J Endocrinol Metab [Internet]. 2015;19(1):160. Available from: http://www.ijem.in/text.asp?2015/19/1/160/146874
Cobb J, Gall W, Adam KP, Nakhle P, Button E, Hathorn J, et al. A novel fasting blood test for insulin resistance and prediabetes. J Diabetes Sci Technol. 2013;7(1):100-10.
Cobb J, Eckhart A, Motsinger-Reif A, Carr B, Groop L, Ferrannini E. α-Hydroxybutyric acid is a selective metabolite biomarker of impaired glucose tolerance. Diabetes Care. 2016;39(6):988-95.
ADA. American Diabetes Association. 2. Classification and diagnosis of Diabetes: Standards of Medical Care in diabetes - 2019. Diabetes Care [Internet]. 2019;42(Suppl. 1):S13-28. Available from: https://doi.org/10.2337/dc19-S002
Gonzalez-Neira M, San Mauro-Martin I, Garcia-Angulo B, Fajardo D, Garicano-Vilar E. Nutritional and body composition assessment and its relationship with athletic performance in a women's soccer team. Rev Esp Nutr Humana Y Diet. 2015;19(1):36-48.
TANITA Corporation. Body Fat Moitor / Scale. Instruction Manual Tanita. Tanita Corporation of America Inc. 2011. p. 1-32.
Gunczler P. Síndrome de resistencia a la insulina en niños y adolescentes. Gac Med Caracas. 2006;114:62-70.
Milburn M V., Lawton KA. Application of Metabolomics to Diagnosis of Insulin Resistance. Annu Rev Med. 2013;64(1):291–305.
Scalbert A, Brennan L, Fiehn O, Hankemeier T, Kristal BS, van Ommen B, et al. Mass-spectrometry-based metabolomics: Limitations and recommendations for future progress with particular focus on nutrition research. Metabolomics. 2009;5(4):435–58.
Gall WE, Beebe K, Lawton KA, Adam KP, Mitchell MW, Nakhle PJ, et al. α-hydroxybutyrate is an early biomarker of insulin resistance and glucose intolerance in a nondiabetic population. PLoS One. 2010;5(5):e10883.
Ferrannini E, Natali A, Camastra S, Nannipieri M, Mari A, Adam KP, et al. Early metabolic markers of the development of dysglycemia and type 2 diabetes and their physiological significance. Diabetes. 2013;62(5):1730–7.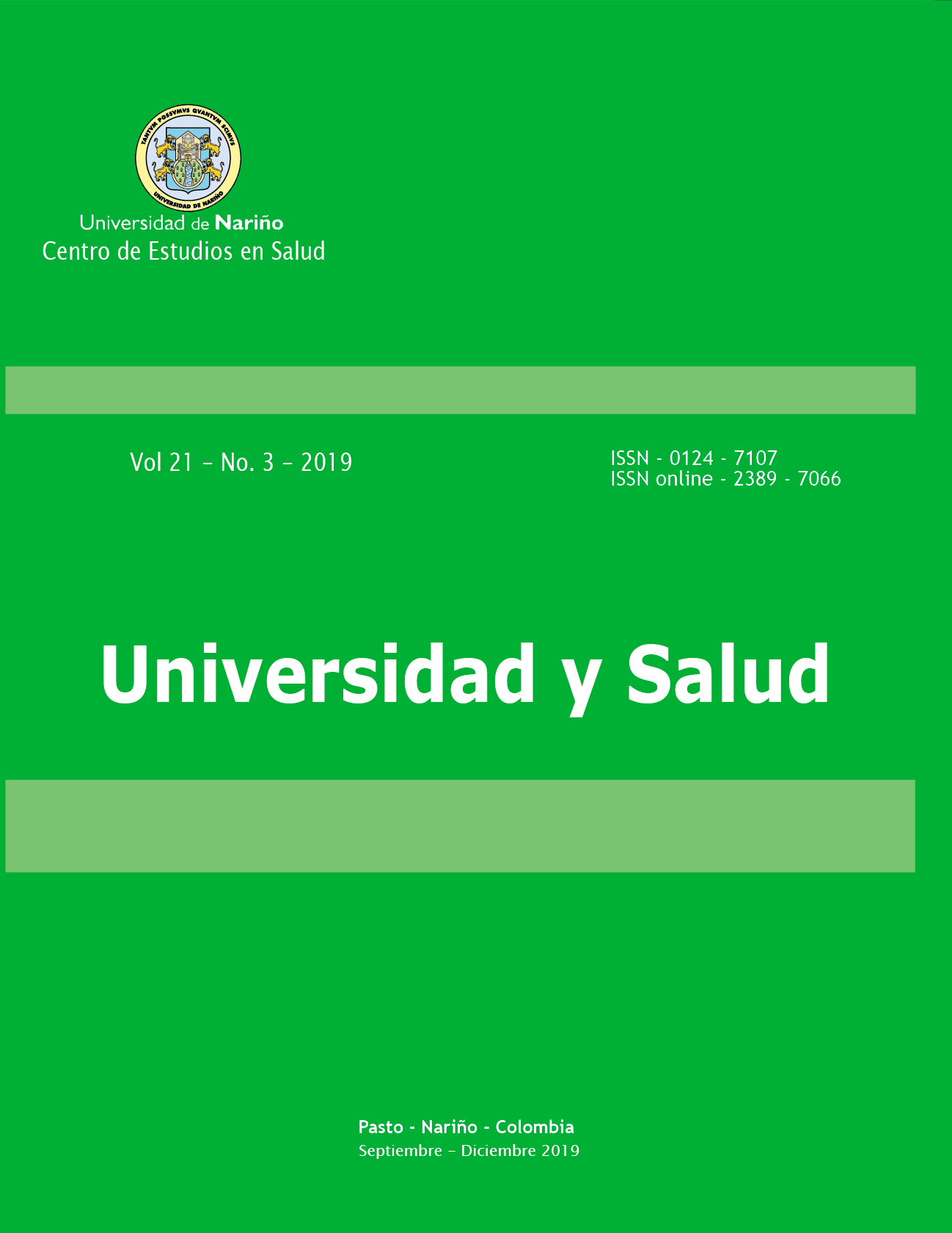 Cómo citar
Mauro-Martin, I., López-Oliva, S., Garicano-Vilar, E., García-de Angulo, B., & Blumenfeld-Olivares, J. (2019). Detección de la alteración del metabolismo glucídico y resistencia a la insulina en una muestra piloto infantil: Aproximación metabolómica. Universidad Y Salud, 21(3), 191-197. https://doi.org/10.22267/rus.192103.155
Sección
Artículo de investigación científica y tecnológica