Detección de síncope vasovagal con adaptación de la Escala de Calgary en estudiantes universitarios colombianos
Palabras clave:
Síncope, Síncope Vasovagal, Encuestas y Cuestionarios, Encuestas Epidemiológicas
Resumen
Introducción: El síncope vasovagal tiene una incidencia entre 10% y 19% en la población general, el primer episodio suele aparecer en la juventud. Objetivo: Estimar la prevalencia de síncope vasovagal en una población universitaria del sur de Colombia, utilizando una adaptación de la Escala de Calgary como cuestionario diagnóstico. Materiales y métodos: Después de la firma voluntaria del consentimiento informado, los estudiantes fueron entrevistados y se les aplicó la Escala de Calgary. Posteriormente, se realizó un cuestionario de seguimiento a los participantes positivos. Resultados: Participaron 280 estudiantes, el 17% obtuvo un puntaje positivo para síncope vasovagal. La edad media fue 21,45±5,18; con mayor positividad para el género femenino. En el seguimiento, el 10% de los positivos, consultó a urgencias por pérdida de conciencia, 4% fue ingresado a hospitalización y 10% presentó lesiones secundarias. Conclusiones: Un número representativo de participantes fue positivo en la Escala de Calgary, ninguno de ellos había recibido diagnóstico de síncope neuralmente mediado, pese a haber consultado a urgencias y/o presentar lesiones secundarias por pérdida de conciencia. Incluir la Escala de Calgary en la evaluación inicial del paciente consultante por pérdida de conciencia, podría ayudar al diagnóstico temprano de síncope vasovagal.
Descargas
La descarga de datos todavía no está disponible.
Visitas al resumen del artículo: 139
Referencias
Shen WK, Sheldon RS, Benditt DG, Cohen MI, Forman DE, Goldberger ZD, et al. 2017 ACC/AHA/HRS guideline for the evaluation and management of patients with syncope: Executive summary: A report of the american college of cardiology/american heart association task force on clinical practice guidelines, and the heart rhythm society. Circulation. 2017;136(5):e60-e122. Disponible en: https://doi.org/10.1161/cir.0000000000000499
Brignole M, Moya Á, de Lange FJ, Deharo JC, Elliott PM, Fanciulli A, et al. Guía ESC 2018 sobre el diagnóstico y el tratamiento del síncope. Rev Esp Cardiol. 2018;71(19):837.e1-e92. Disponible en: https://www.revespcardiol.org/es-pdf-S0300893218304895?referer=buscador
Sheldon RS, Raj S, Predicting Syncope: The First Step in a Long Journey? HRTHM. 2018;15(9):1411-2. doi: 10.1016/j.hrthm.2018.06.002. PubMed Central PIMD PMCID: 29883679
Pournazari P, Sahota I, Sheldon R. High Remission Rates in Vasovagal Syncope: Systematic Review and Meta-Analysis of Observational and Randomized Studies. JACC: Clinical Electrophysiology. 2017;3(4):384-92. Disponible en: https://doi.org/10.1016/j.jacep.2016.10.012
Sahota IS, Maxey C, Pournazari P, Sheldon RS. Clusters, Gaps, and Randomness: Vasovagal Syncope Recurrence Patterns. JACC Clin Electrophysiol. 2017;3(9):1046-53. Disponible en: https://doi.org/10.1016/j.jacep.2017.02.008
Sheldon RS, Grubb BP, Olshansky B, Shen WK, Calkins H, Brignole M, et al. 2015 Heart Rhythm Society Expert Consensus Statement on the diagnosis and treatment of postural tachycardia syndrome, inappropriate sinus tachycardia, and vasovagal syncope. Heart Rhythm. 2015;12(6):e41–e63. Disponible en: https://doi.org/10.1016/j.hrthm.2015.03.029
Rosas F, Jumbo L, Velasco V, Jaramillo C, Rodríguez D. Síncope neurocardiogénico Relación con la edad, género y tipo de respuesta en la prueba de la mesa basculante. Acta Médica Colombiana. 2001;26(2):60-4. Disponible en: http://www.actamedicacolombiana.com/anexo/articulos/02-2001-04.htm
Baker SE, Limberg JK, Ranadive SM, Joyner MJ. Neurovascular control of blood pressure is influenced by aging, sex, and sex hormones. Am J Physiol Regul Integr Comp Physiol. 2016;311(6):R1271-R1275. Disponible en: https://doi.org/10.1152/ajpregu.00288.2016
Limberg JK, Peltonen GL, Johansson RE, Harrell JW, Kellawan JM, Eldridge MW, et al. Greater β-adrenergic receptor mediated vasodilation in women using oral contraceptives. Front Physiol. 2016;7:215. Disponible en: https://doi.org/10.3389/fphys.2016.00215
Briant LJ, Burchell AE, Ratcliffe LE, Charkoudian N, Nightingale AK, Paton JF, et al. Quantifying sympathetic neuro-haemodynamic transduction at rest in humans: insights into sex, ageing and blood pressure control. J Physiol. 2016;594(17):4753–68. Disponible en: https://doi.org/10.1113/JP272167
Ng J, Sheldon RS, Ritchie D, Raj V, Raj SR. Reduced quality of life and greater psychological distress in vasovagal syncope patients compared to healthy individuals. Pacing Clin Electrophysiol. 2019;42(2):180-8. Epub 2018 Dec 10. PMID: 30488466; PMCID: PMC6358504. Disponible en: https://doi.org/10.1111/pace.13559
Castaño-Morales JA, Lopera-Valle JS, Vanegas-Elorza DA, Cañas-Arenas EM, González-Rivera E. Escala de Calgary para el diagnóstico del síncope vasovagal. Estudio de pruebas diagnósticas. Rev. Colomb. Cardiol. 2015;22(4):162-8. Disponible en: https://doi.org/10.1016/j.rccar.2015.03.007
Lee AK, Krahn AD. Evaluation of syncope: focus on diagnosis and treatment of neurally mediated syncope. Expert Rev Cardiovasc Ther. 2016;14(6):725-36. Disponible en: https://doi.org/10.1586/14779072.2016.1164034
Piccirillo G, Moscucci F, Fiorucci C, Di Iorio C, Mastropietri F, Magrì D. Time- and frequency-domain analysis of beat to beat P-wave duration, PR interval and RR interval can predict asystole as form of syncope during head-up tilt. Physiological Measurement. 2016;37(11):1910–24. Disponible en: https://doi.org/10.1088/0967-3334/37/11/1910
Keller K, Beule J, Balzer JO, Dippold W. Syncope and collapse in acute pulmonary embolism. Am J Emerg. Med. 2016;34(7):1251–7. Disponible en: https://doi.org/10.1016/j.ajem.2016.03.061
Sheldon R. Syncope Diagnostic Scores. Prog Cardiovasc Dis. 2013;55(4):390–5. Disponible en: https://doi.org/10.1016/j.pcad.2012.10.011
Kim TH, Jang HJ, Kim S, Cho SY, Song KS, Pickett C, et al. A new test for diagnosing vasovagal syncope: Standing after treadmill test with sublingual nitrate administration. PLOS One. 2017;12(6):e0179631. Disponible en: https://doi.org/10.1371/journal.pone.0179631
Asociación Médica Mundial. Declaración de Helsinki de la Asociación Médica Mundial (AMM) principios éticos para las investigaciones médicas en seres humanos. 64a Asamblea General. 2013. Disponible en: https://www.wma.net/es/policies-post/declaracion-de-helsinki-de-la-amm-principios-eticos-para-las-investigaciones-medicas-en-seres-humanos/. Consultado 03 Mar 2018.
Chaturvedi A, Kumar A. Syncope: Clinical study and outcome of diagnostic evaluation. J Assoc Physicians India. 2018 Jan;66(1):37-40.
Sheldon R, Rose MS, Ritchie D, Martens K, Maxey C, Jagers J, et al. Genetic Association Study in Multigenerational Kindreds With Vasovagal Syncope. Circ Arrhythm Electrophysiol. 2019;12(1):e006884. PubMed PMID:30636478. Disponible en: https://doi.org/10.1161/CIRCEP.118.006884
Skoog J, Zachrisson H, Länne T, Lindenberger M. Reduced compensatory responses to maintain central blood volume during hypovolemic stress in women with vasovagal syncope. Am J Physiol Regul Integr Comp Physiol. 2017;312(1):R55–R61. Disponible en: https://doi.org/10.1152/ajpregu.00166.2016
Christou GA, Kouidi EJ, Anifanti MA, Sotiriou PG, Koutlianos NA, Deligiannis AP. Pathophysiological mechanisms of noncardiac syncope in athletes. Int J Cardiol. 2016;224:20-6. Disponible en: https://doi.org/10.1016/j.ijcard.2016.08.308
Abizanda P, Garcia I, Luengo C, et al. Tratado de Geriatría para Residentes, 1ª Edición. En: Pedro Abizanda Soler, M.a Isabel García Tomás, Editores, Situaciones clínicas Relevantes, Capítulo 32: Síncope, Sociedad Española de Geriatría y Gerontología (SEGG), España: Editorial: International Marketing & Communication, S.A. (IM&C), 2017. p. 333-42.
Stewart JM, Medow MS, Sutton R, Visintainer P, Jardine DL, Wieling W. Mechanisms of Vasovagal Syncope in the Young: Reduced Systemic Vascular Resistance Versus Reduced Cardiac Output. J Am Heart Assoc. 2017;6(1):e004417. Disponible en: https://doi.org/10.1161/jaha.116.004417
Flevari P, Leftheriotis D, Kroupis C, Antonakos G, Lekakis J, Dima K. Copeptin levels in patients with vasovagal syncope. Int. J. Cardiol. 2017;230:642-5. Disponible en: https://doi.org/10.1016/j.ijcard.2017.01.014
Marechal P, Scheen AJ, Lancellotti P. Syncope aux Urgences Diagnostic différentiel et stratification du risque. Rev Med Liege. 2018;73(5-6):237-42. Disponible en: http://hdl.handle.net/2268/230421
Angus S. The Cost-Effective Evaluation of Syncope. Med Clin N Am. 2016;100(5):1019–32. Disponible from: https://doi.org/10.1016/j.mcna.2016.04.010
Palaniswamy C, Aronow WS, Agrawal N, Balasubramaniyam N, Lakshmanadoss U. Syncope: Approaches to Diagnosis and Management. Am J Ther. 2016;23(1):208-17. Disponible en: https://doi.org/10.1097/MJT.0b013e318256ed0f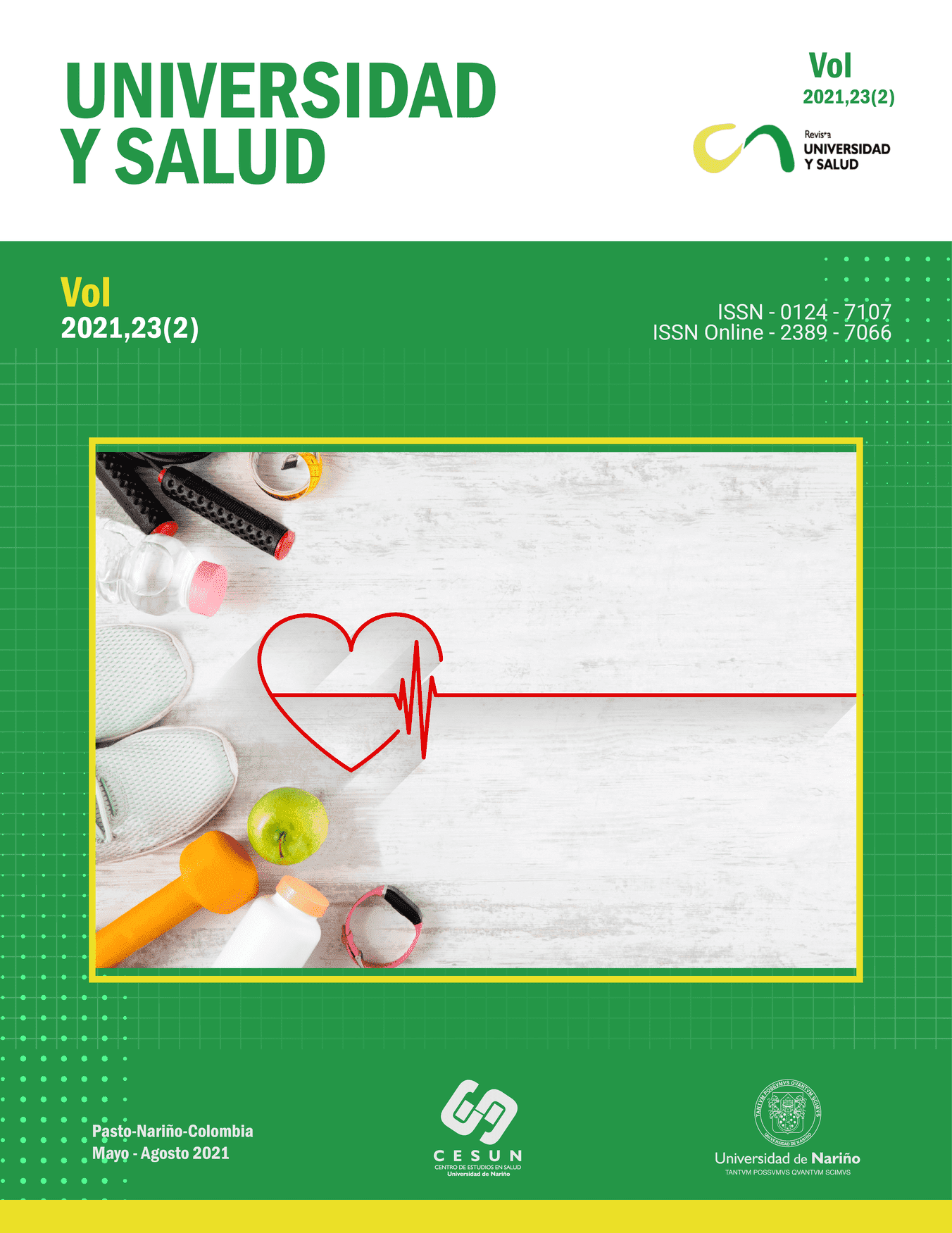 Cómo citar
Penagos-Guio, K., Sandoval-Montealegre, A., Llano-Bautista, D., Galindo-Martínez, J., Reyes-Ortiz, L., & Tafurt-Cardona, Y. (2021). Detección de síncope vasovagal con adaptación de la Escala de Calgary en estudiantes universitarios colombianos. Universidad Y Salud, 23(2), 92-99. https://doi.org/10.22267/rus.212302.220
Sección
Artículo de investigación científica y tecnológica