Commercialization of the Diacol capiro, Parda pastusa L. and amarilla potatoes´ variety
Deisy Figueroa N

Facultad de Ciencias Agrícolas, Universidad de Nariño

David Rosas L

Facultad de Ciencias Agrícolas, Universidad de Nariño

Francisco Torres M

Profesor Asociado. I.A. M.Sc. Facultad de Ciencias Agrícolas, Universidad de Nariño
Keywords:
producers, intermediaries, marketing channels
Abstract
This study was conducted in three of the districts most representative of the municipa- lity of Pasto (Catambuco, La Laguna and Santa Barbara), in terms of planting area and number of farmers engaged in three potato varieties most commonly grown and inten- ded for sale in the region (Diacol Capiro, Parda Pastusa and Amarilla). We studied va- riables that directly affect the marketing process, in terms of prices at the producer level, brokers, market places and supermarkets in the city of Pasto, determining marketing channels and margins, and later make recommendations that lead to improved product marketing in the region. Includes production and a diagnosis of social and technical characterization of the producers, reflecting the reality of the majority of farmers, in terms of gaps and the socio-economic benefits. The analysis of marketing channels and margins for the three varieties, concludes that there is a vast array of marketing for the potato, from the producer to the consumer. According to the results, the producer gets more participation (PP) in the marketing of potatoes Diacol Capiro and Parda Pastusa, on the contrary, in the Amarilla, variety retailers obtain larger gross margins on the market (GMM).
Downloads
Download data is not yet available.
References
BENNHOLT-THOMSEN, V. 1988. Campesinos: Entre producción de subsistencia y de mercado. Cen- tro Regional de Investigaciones Multidisciplinarias, Universidad Nacional Autónoma de México, Méxi- co. 285p.
BURITICA, P. 1999. Las enfermedades de las plantas y su ciencia en Colombia. Universidad Nacional de Colombia, Medellín. 473p.
CARREÑO, J. 1996. Lucha integrada contra las plagas agrícolas y forestales. España, Ediciones MundiPrensa.256p.
CONSOLIDADO AGROPECUARIO. 2008. Secretaria de Agricultura y Medio Ambiente de Nariño y Corporación Colombia Internacional.Pasto, Nariño, 102 p.
DEL VALLE, A. 2009. La papa en Colombia: retos y posibilidades. Federación Colombiana de Productores de papa - Fedepapa. Colombia. 15p.
DIXIE, G. 2006. Comercialización de productos hortícolas. Guía de extensión en comercialización. Organización de las naciones unidas para la agricultura y la Alimentación. Roma, Italia. 164p.
FAJARDO, A., OBANDO, M y TORRES, F. 2010. Estudio de mercado para la Asociación productora de Granadilla (Pasiflora ligularis) en Mallama-Nariño. Revista de Ciencias Agrícolas, Universidad de Nariño. 27(1):9-17.
FEDEPAPA y MINISTERIO DE AMBIENTE, VIVIENDA Y DESARROLLO TERRITORIAL. 2004. Guía ambiental para el cultivo de la papa. Bogotá, Colombia. 56p.
GÓMEZ, L y RAMÍREZ, J. 1999. Manejo post-cosecha y comercialización de la papa. Natural Resources Institute, SENA, Department for International Revelopment. Armenia, Colombia. 126p.
GUERRERO, R, 1998. Fertilización de cultivos de clima frio. Monómeros S.A. Sáenz y Cía. Ltda., Colombia. 425p.
MENDOZA, G. 1980. Compendio de mercadeo de productos agropecuarios. Editorial IICA, San José, Costa Rica. 276p.
MENDOZA, G.1999. Diagnóstico del mercadeo agrícola y agroindustrial en Colombia, una estrategia para la reactivación de la agricultura. Universidad de Bogotá Jorge Tadeo Lozano, Bogotá, Colombia. 208p.
CEVIPAPA. 2006. MINISTERIO DE AGRICULTURA Y DESARROLLO RURAL, GOBERNACIÓN DE NARIÑO, CENTRO VIRTUAL DE INVESTIGACIÓN DE LA CADENA AGROALIMENTARIA DE LA PAPA –I Censo Nacional del Cultivo de Papa. Departamento de Nariño. Bogotá, Colombia. 56p.
MINISTERIO DE AGRICULTURA Y DESARROLLO RURAL. 2001. Acuerdo de competitividad de papa en el departamento de Nariño. [Artículo en internet]. Pasto, Colombia. 53 p. Disponible en: http://www.redepapa.org/narino.pdf. Acceso el 12 de abril de 2010.
SECRETARIA DE AGRICULTURA Y MEDIO AMBIENTE DE NARIÑO. 2010. Consolidado agropecuario. Pasto, Nariño. 125p.
SNODGRASS, M y WALLACE, L. 1978. Agricultura, economía y crecimiento. Editorial Diana, Mexico. 282p.
TÉLLEZ, G. Y CUBILLOS, A. 2001. Mercadeo Agropecuario. [Artículo en internet]. Universidad Nacional de Colombia. Colombia. 43p. Disponible en: http://www.veterinaria.unal.edu.co/inv/gigep/Cap%EDtulo%20Manual%20Agropecuario%20FHJC.pdf. Acceso el 12 de abril de 2010.
TOLEDO, J. e INFANTE, F. 2008. Manejo integrado de plagas. Editorial Trillas, México. 327p.
TORRES, G. 2010. Distribución de alimentos. Mercados y políticas sociales. Centro de Investigaciones Interdisciplinarias en Ciencias y Humanidades, Universidad Nacional Autónoma de México, México. 216p.
VILORIA DE LA HOZ, J. 2008. Economías del Pacífico colombiano. Colección de Economía Regional, Banco de la República, Bogotá. 181p.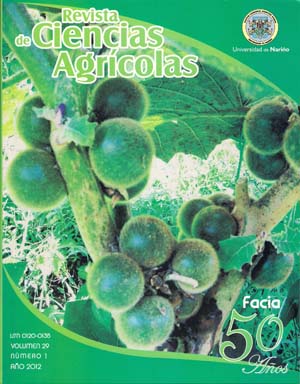 How to Cite
Figueroa N, D., Rosas L, D., & Torres M, F. (2012). Commercialization of the Diacol capiro, Parda pastusa L. and amarilla potatoes´ variety. Revista De Ciencias Agrícolas, 29(1), 16-28. Retrieved from http://revistas.udenar.edu.co/index.php/rfacia/article/view/365
Section
Research and scientific and technological innovation article