Calidad de vida, Burnout e indicadores de salud en enfermeras/os que trabajan con turnos rotativos
Palabras clave:
salud laboral, calidad de vida, Burnout, actividad física, enfermería
Resumen
Introducción: El trabajo por turnos tiene el potencial de perturbar la vida familiar y social, y puede provocar fatiga crónica, somnolencia y síntomas somáticos asociados a trastornos del ritmo circadiano. Objetivo: Comparar la calidad de vida, estrés laboral e indicadores de salud en profesionales de enfermería que trabajan con turnos rotativos y diurnos. Materiales y métodos: Estudio descriptivo de diseño observacional y de corte transversal con 24 participantes divididos en 2 grupos de acuerdo con el tipo de sistema de trabajo que desempeñaban: diurno y turnos rotativos. Se aplicaron los cuestionarios SF-36 y Burnout, y se midieron algunos indicadores de salud. Resultados: Las/os enfermeras/os que trabajan en turnos rotativos presentaron una calidad de vida más baja en la dimensión rol emocional (p=0,039), mayor cansancio emocional (p=0,046), menor sentimiento de realización personal en el trabajo (p=0,022), menores niveles de insulina basal (p=0,005), menor valor en el índice de HOMA-IR (p=0,007) y mayor cantidad de METs (Metabolic-energy-equivalents) gastados semanalmente (p=0,041) en comparación con sus pares que se desempeñan en jornadas diurnas. Conclusiones: Las/os enfermeras/os que trabajan en turnos rotativos presentan una disminución de la calidad de vida, mayores niveles de actividad física y estrés laboral que quienes trabajan de forma diurna.
Descargas
La descarga de datos todavía no está disponible.
Visitas al resumen del artículo: 202
Referencias
Torquati L, Mielke GI, Brown WJ, Burton NW, Kolbe‐Alexander TL. Shift work and poor mental health: a meta‐analysis of longitudinal studies. Am J Public Health. 2019;109(11):e13‐e20. DOI: 10.2105/AJPH.2019.305278.
Gu F, Han J, Laden F, Pan A, Caporaso NE, Stampfer MJ, et al. Total and Cause-Specific Mortality of US Nurses Working Rotating Night Shifts. Am J Prev Med. 2015;48(3):241-52. DOI: 10.1016/j.amepre.2014.10.018.
Zhao Y, Richardson A, Poyser C, Butterworth P, Strazdins L, Leach L. Shift Work and Mental Health: A Systematic Review and Meta-Analysis. Int Arch Occup Environ Health. 2019;92(6):763-93. DOI: 10.1007/s00420-019-01434-3.
Vitale SA, Varrone-Ganesh J, Vu M. Nurses working the night shift: Impact on home, family and social life. J Nurs Educ Pract. 2015;5(10):70-8. DOI: 10.5430/jnep.v5n10p70.
Ríos-Risquez M, García-Izquierdo M. Patient satisfaction, stress and burnout in nursing personnel in emergency departments: A cross-sectional study. Int J Nurs Stud. 2016;59:60–7. DOI: 10.1016/j.ijnurstu.2016.02.008.
Buyukhatipoglu H, Kirhan I, Vural M, Taskin A, Sezen Y, Dag OF, et al. Oxidative Stress Increased in Healthcare Workers Working 24-Hour On-Call Shifts. Am J Med Sci. 2010;340(6):462-7. DOI: 10.1097/MAJ.0b013e3181ef3c09.
Al-Ameri M. Night Shift and its Impact upon the Quality of Life of Nurses Working at the Teaching Hospitals of the Medical City Complex in Baghdad City, Iraq. J Nurs Care. 2017;6(4):414. DOI: 10.4172/2167-1168.1000414.
Tavakoli-Fard N, Mortazavi S-A, Kuhpayehzadeh J, Nojomi M. Quality of life, work ability and other important indicators of women's occupational health. Int J Occup Med Environ Health. 2016;29(1):77-84. DOI: 10.13075/ijomeh.1896.00329.
Harper A, Power M, WHOQOL Group. Development of the World Health Organization WHOQOL-BREF quality of life assessment. Psychol Med. 1998;28(3):551-8. DOI: 10.1017/s0033291798006667.
Rosa D, Terzoni S, Dellafiore F, Destrebecq A. Systematic review of shift work and nurses' health. Occup. Med. 2019;69(4):237-43. DOI: 10.1093/occmed/kqz063.
Khammar A, Amjad RN, Rohani M, Yari A, Noroozi M, Poursadeghian A, et al. Survey of shift work disorders and occupational stress among nurses: A cross-sectional study. Ann Trop Med Public Health. 2017;10(4):978-84. DOI: 10.4103/ATMPH.ATMPH_305_17.
Moon S, Oh CM, Choi MK, Park YK, Chun S, Choi M, et al. The influence of physical activity on risk of cardiovascular disease in people who are obese but metabolically healthy. PLoS One. 2017;12(9):e0185127. DOI: 10.1371/journal.pone.0185127.
Salas C, Cristi-Montero C, Fan Y, Durán E, Labraña AM, Martínez MA, et al. Ser físicamente activo modifica los efectos nocivos del sedentarismo sobre marcadores de obesidad y cardiometabólicos en adultos. Rev Med Chil. 2016;144(11):1400-9. DOI: 10.4067/S0034-98872016001100005.
Concha-Cisternas Y, Castillo-Retamal M, Guzmán-Muñoz E. Comparación de la calidad de vida en estudiantes universitarios según nivel de actividad física. Univ. Salud. 2020;22(1):33-40. DOI: 10.22267/rus.202201.172.
World Health Organization. Global Health Risks: Mortality and Burden of Disease Attributable to Selected Major Risks. Geneva, Switzerland: World Health Organization; 2009. Disponible en: https://apps.who.int/iris/handle/10665/44203
Leiva AM, Petermann-Rocha F, Martinez-Sanguinetti MA, Troncoso-Pantoja C, Concha Y, Garrido-Mendez A, et al. Association of a healthy lifestyle index with cardiovascular risk factors in Chileans adults. Rev Med Chil. 2018;146(12):1405-14. DOI: 10.4067/s0034-98872018001201405.
Concha-Cisternas Y, Guzman-Munoz E, Valdes-Badilla P, Lira-Cea C, Petermann F, Celis-Morales C. Levels of physical activity and excess body weight in university students. Rev Med Chil. 2018;146(8):840-9. DOI: 10.4067/s0034-98872018000800840.
Petermann-Rocha F, Brown RE, Diaz-Martinez X, Leiva AM, Martinez MA, Poblete-Valderrama F, et al. Association of leisure time and occupational physical activity with obesity and cardiovascular risk factors in Chile. J Sports Sci. 2019;37(22):2549-59. DOI: 10.1080/02640414.2019.1647738.
Alonso J, Prieto L, Anto JM. The spanish version of the sf-36 health survey(the SF-36 health questionnaire): an instrument for measuring clinical results. Med Clin. 1995;104(20):771-6. Disponible en: https://pubmed.ncbi.nlm.nih.gov/7783470/
Arias Gallegos WL, Muñoz del Carpio TA. Burnout syndrome in the nursing staff from Arequipa. Rev Cuba Salud Pública. 2016;42(4):559-75. Disponible en: http://www.revsaludpublica.sld.cu/index.php/spu/article/view/872
Marfell-Jones M, Stewart A, De Ridder H. International standards for anthropometric assessment. Wellington, New Zealand: International Society for the Advancement of Kinanthropometry; 2012.
Crespo-Salgado JJ, Delgado-Martín JL, Blanco-Iglesias O, Aldecoa-Landesa S. Guía básica de detección del sedentarismo y recomendaciones de actividad física en atención primaria. Aten Prim. 2015;47(3):175-83. DOI: 10.1016/j.aprim.2014.09.004.
Serón P, Muñoz S, Lanas F. Nivel de actividad física medida a través del cuestionario internacional de actividad física en población Chilena. Rev med Chil. 2010;138(10):1232-9. DOI: 10.4067/S0034-98872010001100004.
Carrera Y. Cuestionario Internacional de Actividad Física (IPAQ). Rev Enferm del Trab. 2017;7(2):49-54. Disponible en: https://dialnet.unirioja.es/servlet/articulo?codigo=5920688
Friedewald WT, Levy RI, Fredrickson DS. Estimation of the concentration of low-density lipoprotein cholesterol in plasma, without use of the preparative ultracentrifuge. Clin chem. 1972;18(6):499-502. Disponible en: https://pubmed.ncbi.nlm.nih.gov/4337382/
Matthews D, Hosker J, Rudenski A, Naylor B, Treacher D, Turner R. Homeostasis model assessment: insulin resistance and β-cell function from fasting plasma glucose and insulin concentrations in man. Diabetologia. 1985;28(7):412-9. DOI: 10.1007/BF00280883.
Andrades Barrientos L, Valenzuela Suazo S. Quality of life associated factors in Chileans hospitals nurses. Rev Latino-Am Enfermagem. 2007;15(3):480-6. DOI: 10.1590/S0104-11692007000300018
de Castilho Palhares V, Corrente JE, Bojikian Matsubara B. Association between sleep quality and quality of life in nursing professionals working rotating shifts. Rev Saude Publica. 2014;48(4):594-601. DOI: 10.1590/s0034-8910.2014048004939.
Shahriari M, Shamali M, Yazdannik A. The relationship between fixed and rotating shifts with job burnout in nurses working in critical care areas. Iran J nurs midwifery res. 2014;19(4):360-5. Disponible en: https://pubmed.ncbi.nlm.nih.gov/25183975/
Deschamps Perdomo A, Olivares Román SB, de la Rosa Zabala KL , Asunsolo del Barco Á. Influencia de los turnos de trabajo y las guardias nocturnas en la aparición del Síndrome de Burnout en médicos y enfermeras. Med Segur Trab. 2011;57(224):224-41. DOI: 10.4321/S0465-546X2011000300004.
Ganesan S, Magee M, Stone JE, Mulhall MD, Collins A, Howard ME, et al. The Impact of Shift Work on Sleep, Alertness and Performance in Healthcare Workers. Sci. Rep. 2019;9(1):4635. DOI: 10.1038/s41598-019-4914-x.
Kim W, Kim TH, Lee T-H, Choi JW, Park E-C. The impact of shift and night work on health related quality of life of working women: findings from the Korea Health Panel. Health Qual Life Outcomes. 2016;14(1):162. DOI: 10.1186/s12955-016-0564-x.
Akour A, Abu Farha R, Alefishat E, Kasabri V, Bulatova N, Naffa R. Insulin resistance and levels of cardiovascular biomarkers in night-shift workers. Sleep and Biological Rhythms. 2017;15(4):283-90. Disponible en: https://link.springer.com/article/10.1007/s41105-017-0109-7
Diaz-Sampedro E, Lopez-Maza R, Gonzalez-Puente M. Eating habits and physical activity in hospital shift workers. Enferm clin. 2010;20(4):229-35. DOI: 10.1016/j.enfcli.2010.03.005.
Peplonska B, Bukowska A, Sobala W. Rotating night shift work and physical activity of nurses and midwives in the cross-sectional study in Lodz, Poland. Chronobiol Int. 2014;31(10):1152-9. DOI: 10.3109/07420528.2014.957296.
Loef B, Hulsegge G, Wendel-Vos GCW, Verschuren WMM, Vermeulen RCH, Bakker MF, et al. Non-occupational physical activity levels of shift workers compared with non-shift workers. Occup Environ Med. 2017;74(5):328-35. DOI: 10.1136/oemed-2016-103878.
Flores-Opazo M, Raajendiran A, Watt M, Hargreaves M. Exercise Serum Increases GLUT4 in Human Adipocytes. Exp Physiol. 2019;104(5):630-4. DOI: 10.1113/EP087495.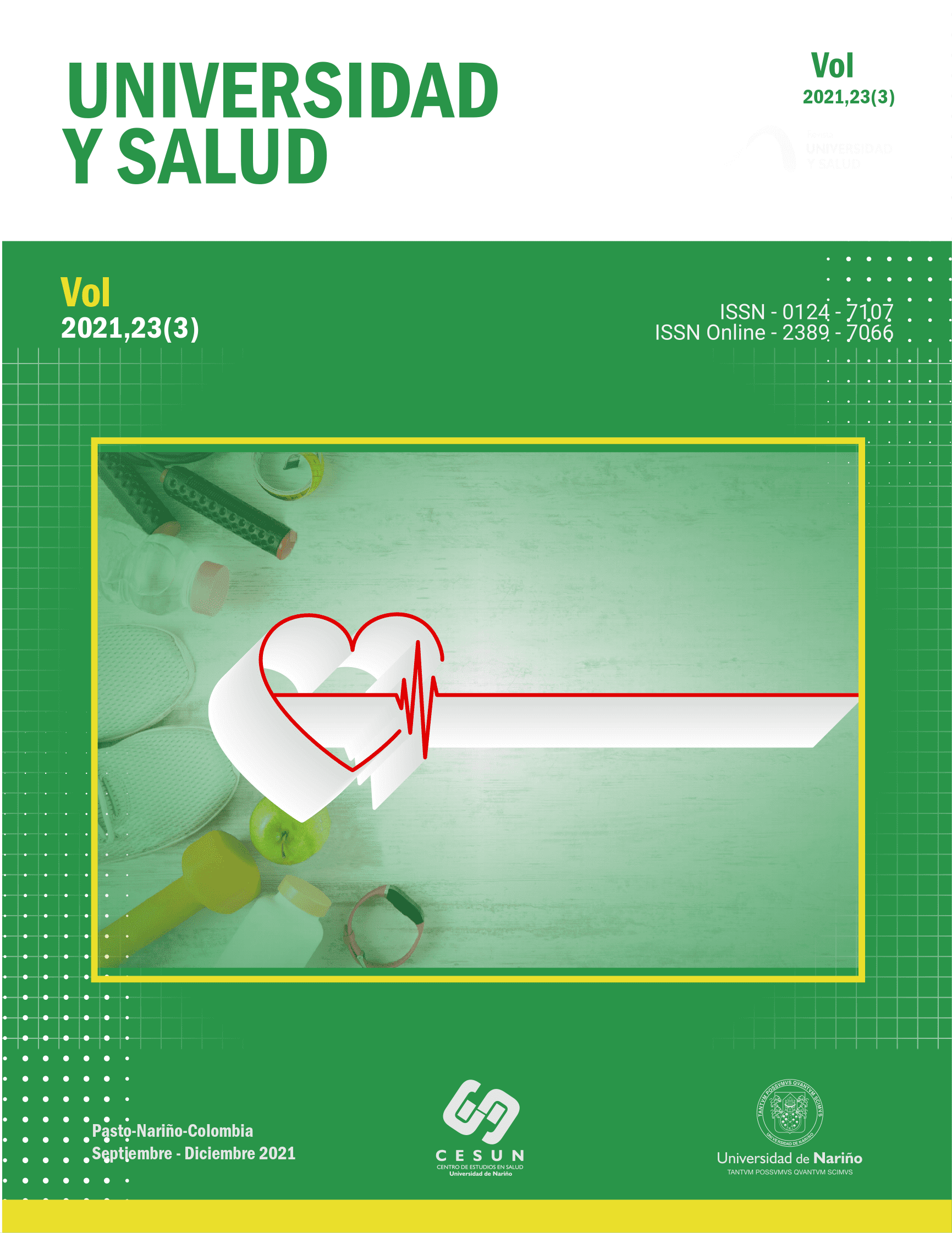 Cómo citar
Vásquez-Yañez, J., & Guzmán-Muñoz, E. (2021). Calidad de vida, Burnout e indicadores de salud en enfermeras/os que trabajan con turnos rotativos. Universidad Y Salud, 23(3), 240-247. https://doi.org/10.22267/rus.212303.237
Sección
Artículo de investigación científica y tecnológica