Growth performance of Astyanax altiparanae fed with plant and/or animal lipid sources
Keywords:
growth, lipid sources, bovine fat
Abstract
The lambari, Astyanax altiparanae, exhibits a great potential for aquaculture due to its omnivory, rapid growth and ease captive production. Despite of fish lipid metabolism being directly related to the dietary lipid consumed, which may lead to changes in fish growth, nothing much have been established regarding the lipid sources that can be applied in A. altiparanae captive production. Thus, the present investigation was conducted aiming to evaluate the growth performance and whole body composition of A. altiparanae fed with lipid sources of plant and/or animal origins. We used a completely randomized design experiment with five treatments (i.e., lipid sources).  The treatments consisted of isoproteic and isoenergetic diets, containing lipid sources (T1: linseed, chia and sunflower; T2: linseed and corn; T3: linseed, chia, corn and sunflower; T4: sunflower, corn and fish; T5: linseed, chia, sunflower, corn and beef fat). Each treatment was replicated six times, where the experimental units consistes of 10 fishes (averaged weight:  4.0 + 0.5 g) placed in an aquarium containing 80 L of dechlorinated water. We compared the growth performance parameters among the treatments by applying an one-way analysis of variance (ANOVA) at 5% significance (P < 0.05). Our results revealed that both growth performance (P>0.05) and whole body composition of (P>0.05). A. altiparanae were not affected by the lipid source, which indicate that these fishes can efficiently use both vegetable lipid sources as well as mixtures of vegetable and animal lipid sources without any growth disadvantages.
Downloads
Download data is not yet available.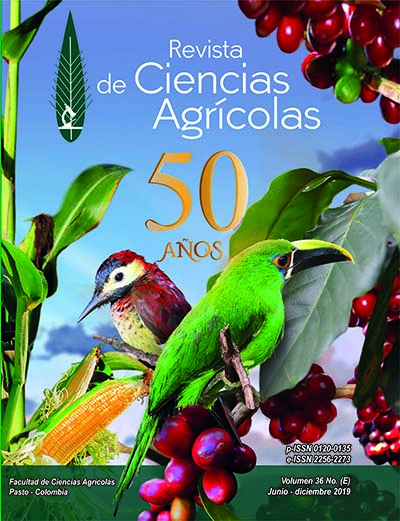 How to Cite
Chaves, W., Almeida, Érica, Carneiro, C., Magnone, L., Martins, N., Bessonart, M., Zuanon, J., & Salaro, A. (2019). Growth performance of Astyanax altiparanae fed with plant and/or animal lipid sources. Revista De Ciencias Agrícolas, 36(E). Retrieved from http://revistas.udenar.edu.co/index.php/rfacia/article/view/4882
Section
Research and scientific and technological innovation article