La auriculopuntura disminuye los niveles de ansiedad en adultos chilenos con malnutrición por exceso
Palabras clave:
Ansiedad, antropometría, auriculoterapia
Resumen
Introducción: A pesar del incremento en el uso de la medicina tradicional china para el tratamiento de la obesidad son pocos los estudios que evalúan su efecto. Objetivo: Determinar el efecto de la auriculopuntura sobre la ansiedad, ingesta nutricional y medidas antropométricas en chilenos con malnutrición por exceso. Materiales y métodos: estudio cuasi-experimental, con muestra probabilística conformada por 21 sujetos, divididos en dos grupos, intervenido GI (n=11) y control GC (n=10). La intervención consistió en realizar auriculopuntura durante siete semanas al GI y administrar un placebo al GC. En ambos grupos se determinó antropometría, ingesta nutricional y niveles de ansiedad. Todos los participantes firmaron consentimiento informado. Para comparar medias entre grupos e intra grupos, se utilizó la prueba t-Student para muestras pareadas. La significancia estadística se estableció a un (α<0,05). Resultados: Se encontró en el GI una disminución de la ansiedad (p=0,036) y de la ingesta de sodio (p=0,035). No se encontraron diferencias estadísticamente significativas en las variables de ingesta calórica-nutricional y antropométrica en ningún grupo. Conclusiones Es necesario incrementar el tiempo de intervención para evaluar el efecto en el largo plazo y de esta forma, establecer asociaciones causales.
Descargas
La descarga de datos todavía no está disponible.
Citas
Clarke TC, Black LI, Stussman BJ, Barnes PM, Nahin RL. Trends in the Use of Complementary Health Approaches Among Adults: United States, 2002–2012. National health statistics reports. 2015 ;( 79):1-16.
Chan M, Wu X, Wu J, Wong S, Chung V. Safety of Acupuncture. Scientific Report. 2017; 7: 1-11
Organización Mundial de la Salud. Estrategias de OMS sobre medicina tradicional 2014-2023. Ginebra: OMS; 2013. Disponible en: http://apps.who.int/medicinedocs/documents/s21201es/s21201es.pdf [Consultado el 20-01-2018].
Muñoz-Ortego J, Solans-Domènech M, Carrion C. Indicaciones médicas de la acupuntura: revisión sistemática. Medicina Clínica. 2016; 147(6):250-256.
Litscher G, Rong P. Auricular acupuncture. Evidence-based Complementary and Alternative Medicine: eCAM. 2016; 2016:4231260.
Stanton G. Auricular acupuncture as an alternative medicine. HSOA Journal of Alternative, Complementary & Integrative Medicine. 2017;3:1-3.
MINSAL. Encuesta Nacional de Salud 2016-2017. Chile: Ministerio de Salud de Chile; 2017.
Heymsfield S, Wadden T. Mechanism, Pathophysiology, Managment of Obesity. The new England Journal of Medicine. 2017;376:254-266.
Calderon C, Forns M, Varea V. Implicación de la ansiedad y la depresión en los trastornos de alimentación de jóvenes con obesidad. An Pediatr 2009;71(6):489-94.
Da Silva A. El tratamiento de la ansiedad por intermedio de la acupuntura: un estudio de caso. Psicol. Cienc. Prof. 2010; 30(1):200-211.
Haddad M, Marcon S. Acupuntura y apetito de trabajadores obesos de un hospital universitario. Acta. Paul. Enferm. 2011; 24(5):676-682.
Set T, Cayir Y, Guven A. Effects of ear acupunture therapy for obesity on the depression of obese women. Acupunct. Med. 2014; 32:427-429.
Viner RM, Hsia Y, Tomsic T, Wong IC. Efficacy and safety of anti-obesity drugs in children and adolescents: systematic review and meta-analysis. Obes Rev. 2010 Aug; 11(8):593-602.
Oleson T. Auriculotherapy Manual: Chinese and Western Systems of Ear Acupuncture, Ed 3. London: Churchill Livingstone; 2003.
Schenider H, Esbitt S, González J. Hamilton anxiety rating scale. In: Gellman M, Turner J. (edits). Encyclopedia of Behavioral Medicine. New York: Springer; 2013.
World Health Organization. Obesity: preventing and managing the global epidemic. Report of a WHO Consultation. WHO Technical Report Series 894. Geneva: WHO; 2000.
Consejo de Organizaciones Internacionales de las Ciencias Médicas/Organización Mundial de la Salud. Pautas éticas internacionales para la investigación biomédica en seres humanos. Ginebra: CIOMS/OMS; 2002. Disponible en: http://www.ub.es/rceue/archivos/Pautas_Eticas_Internac.pdf
Fischer F, Lewith G, Witt C, Linde K, Von Ammon K, Cardini F, et al. High prevalence but limited evidence in complementary and alternative medicine: guidelines for future research. BMC Complementary and Alternative Medicine. 2014;14:46.
Clarke TC, Black LI, Stussman BJ, Barnes PM, Nahin RL. Trends in the Use of Complementary Health Approaches Among Adults: United States, 2002-2012. National health statistics reports. 2015;(79):1-1.
Li X. Complementary and alternative medicine for treatment of food allergy. Immunol Allergy Clin. N. Am. 2018; 38:103-124.
Miyuki K, Sato L, Paes M. Auriculotherapy effectiveness in the reduction of anxiety in nursing students. Rev. Esc. Enferm USP. 2012:46(5):1200-1206.
Klausenitz C, Hacker H, Hesse T, Kohlmann T, Endlich K, Hahnenkamp K, Usichenko T. Auricular Acupuncture for Exam Anxiety in Medical Student- A Randomized Crossover investigation. PLoS ONE. 2016;11(12):1-9.
Gariepy G, Nitka D, Schimitz N. The association between obesity and anxiety disorders in the population: a systematic review and meta-analysis. International Journal of Obesity. 2010;34:407-419.
Chukwuononso E. Association between anxiety and obesity_ a study of a Young-adult Nigerian population. J. Neurosci. Rural Pract. 2013;4(1):s13-s18.
Lykouras L, Michopoulos J. Anxiety disorders and obesity. Psychiatriaki. 2011;22(4): 307-13.
Abdi H, Tayefi M, Reza S, Zhao B, Rayaz M, Ardabili H, et al. Abdominal and auricular acupuncture reduces blood presure in hypertensive patients. Complementary Therapies in Medicine. 2017;31:20-26.
Lacey JM, Tershakovec AM, Foster GD. Acupuncture for the treatment of obesity: a review of the evidence. International. Journal of Obesity. 2003;27:419-427.
Silva L, Blondet V, Chaves D, Augusta S. Niveles de iones sérica y su relación con los síntomas del síndrome premenstrual en mujeres jóvenes. Nutrición Hospitalaria. 2013;28(6):2194-2200.
Hsu C, Wang CJ, Hwang KC, Lee Ty, Chou P, Chang HH. The effect of auricular acupuncture in obese women: a randomized controlled trial. J. Womens Health (Larchmt). 2009;18(6):813-8.
Lien CY, Liao LL, Choud P and Hsu CH. Effects of auricular stimulation on obese women: A randomized, controlled clinical trial. European Journal of Integrative Medicine. 2012;4:E45-E53.
Ruan Z, Xiang Y, Li J, Zhow X, Huang Z, Dong C. Auricular acupuncture for obesity: a systematic review and meta-analysis. Int. J. Clin. Exp. Med. 2016;9(2):1772-1779.
Ito H, Yamada O, Kira Y, Tanaka T, Matsuoda R. The effects of auricular acupuncture on weight reduction and feeding-related cytokines: a pilot study. BMJ open gastroenterology. 2015;2(1):1-7.
Yeo S, Kim KS, Lim S. Randomised clinical trial of five ear acupuncture points for the treatment of overweight people. Acupunct. Med 2014; 32: 132-138.
Darbandi M, Darbandi S, Mobarhan MG, Owji AA, Zhao B, Iraji K, et al. Effects of auricular acupressure combined with low-calorie diet on the leptin hormone in obese and overweight Iranian individuals. Acupunct Med. 2012;30:208-213.
Gücel F, Bahar B, Demirtas C, Mit S, Cevik C. Influence of acupuncture on leptin, ghrelin, insulin and cholecystokinin in obese women: a randomized, sham-controlled preliminary trial. Acupuncture in Medicine. 2012;30:203-207.
Kim D, Ham O, Kang C, Jun E. Effects of auricular acupressure using sinapsis alba seeds on Obesity and Self-Efficacy in female College Students. The Journal of Alternative and Complementary Medicine. 2014;20(4):258-264.
Chen J, Chen J, Lee S, Mullin G. Potential role for acupuncture in the treatment of food addiction and obesity. Acupunct. Med. 2017;0:1-4.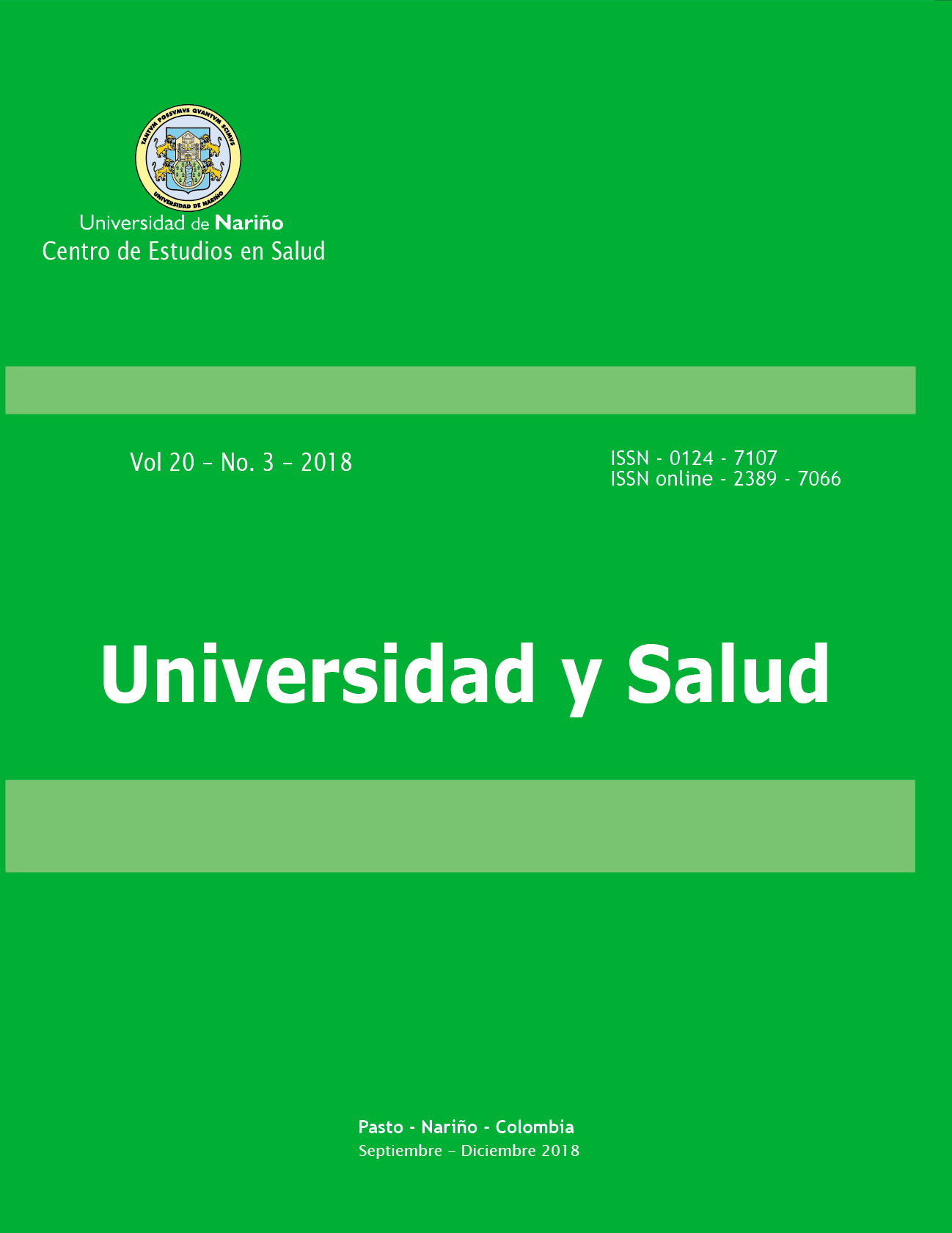 Cómo citar
Maury-Sintjago, E., Robledo-Larenas, J., Pinto-Gallardo, J., & Rodríguez-Fernández, A. (2018). La auriculopuntura disminuye los niveles de ansiedad en adultos chilenos con malnutrición por exceso. Universidad Y Salud, 20(3), 304-311. https://doi.org/10.22267/rus.182003.129