Environmental licensing in the state of minas gerais (Brazil): an Agrosilvopasture system analysis
Sabina Cerruto Ribeiro

Sustanis Horn Kunz
Keywords:
Environmental licensing, Agrosilvopasture systems, Minas Gerais.
Abstract
Environmental licensing is a legal obligation required for the installation of any enterprise or potential environmentally-polluting or degrading activity. Agrosilvopasture systems are amongst these activities, whose environmental licensing in the State of Minas Gerais (Brazil) was the object of study in the present work. A script for obtaining environmental licenses that aim to stimulate changes in the unsustainable standards of production and consumption in order to promote sustainable development was elaborated.
Downloads
Download data is not yet available.
References
ARAÚJO, S.M.V.G. 2002. Licenciamento ambiental e legislação. Consultoria Legislativa – Estudo Setembro/2002. Brasília: Câmara dos Deputados. 14 p.
ASSIS, F.O. 2004. Bacia hidrográfica do Rio Quilombo: dejetos de suínos e impactos ambientais. Revista Ra'e Ga - Espaço Geográfico em Análise, Curitiba. 8:107 - 122.
CUNHA, S.B. Y GUERRA, A.J.T. 1999. Avaliação e perícia ambiental. Rio de Janeiro: Bertrand Brasil. 266 p.
DIXON, J.A., SCURA, L.F., CARPENTER, R.A. y SHERMAN, P.B. 1994. Analisis Economico de Impactos Ambientales. Costa Rica: Catie. 249 p.
ESPINOZA, G. 2001. Fundamentos de Evaluación de Impacto Ambiental. Chile: CED/BID. 189 p.
FEDERAÇÃO DAS INDÚSTRIAS DO ESTADO DO RIO DE JANEIRO (FIRJAN). 2004. Manual de Licenciamento Ambiental: guia de procedimento passo a passo. Rio de Janeiro: GMA. 23 p.
INSTITUTO ESTADUAL DE FLORESTAS (IEF). Comunicação pessoal. Acesso em: Agosto, 2007. LICENCIAMENTO AMBIENTAL FEDERAL. (IBAMA/MMA). 2007. Disponível em: . Acesso em: setembro, 2007.
MACHADO, L.F.P. 2002. Legislação Ambiental. Brasília: Prossegraf. 455 p.
MARCATTO, C. Y RIBEIRO, J.C.J. 2002. Gestão Ambiental Municipal em Minas Gerais. 2 ed. Belo Horizonte: FEAM. 96 p.
MEIO AMBIENTE: LICENCIAMENTO AMBIENTAL, RECURSOS HÍDRICOS, DIREITOS E DEVERES DO PRODUTOR RURAL. FAEMG. 2005. Belo Horizonte: FAEMG, SEBRAE/MG. 63 p.
MOTA, S. 2003. Introdução à Engenharia Ambiental. 3º ed. Rio de Janeiro: ABES. 416 p.
PORTAL NACIONAL DE LICENCIAMENTO AMBIENTAL - PNLA. MMA. 2007. Disponível em: <http://www.mma.gov.br/index.cfm?id_estrutura=46&id_menu=1348&id_conteudo=2127>. Acesso em: agosto, 2007.
RELATÓRIO DE AVALIAÇÃO DE DESEMPENHO AMBIENTAL - RADA. FEAM. 2007. Disponível em: <http://www.feam.br/index.php?option=com_content&task=view&id=89>. Acesso em: agosto,2007.
RODRIGUES, G.S. Y CAMPANHOLA, C. 2003. Sistema integrado de avaliação de impacto ambiental aplicado a atividades do Novo Rural. Pesquisa Agropecuária Brasileira, Brasília. 38(4):445 - 451.
SILVA, E. 1999. Técnicas de avaliação de impactos ambientais. Viçosa: CPT. 64 p.
SISTEMA DE INFORMAÇÃO AGROFLORESTAL (SISAF). 2007. Disponível em: <http://www.cpaa.embrapa.br/produto/prosiaf/SISAFpagina/WebSisaf/SISAF1.php>. Acesso em: agosto, 2007.
THE OVERSTORY AGROFORESTRY EJOURNAL. 2007. Animals in agroforestry # 35. Disponível em: < http://www.agroforestry.net/overstory/overstory35.html>. Acesso em: agosto, 2007.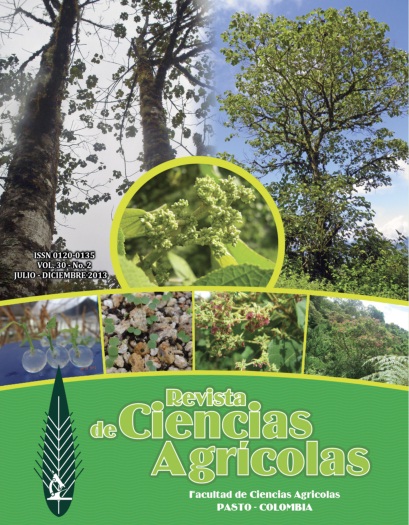 How to Cite
Cerruto Ribeiro, S., & Horn Kunz, S. (2014). Environmental licensing in the state of minas gerais (Brazil): an Agrosilvopasture system analysis. Revista De Ciencias Agrícolas, 30(2), 73-83. Retrieved from http://revistas.udenar.edu.co/index.php/rfacia/article/view/1676